CPL Abrahamson was killed while at a night defensive position when the area came under small arms fire from a hostile force. The families were notified in person and shortly thereafter, CPL Abrahamson's death was reported in local papers.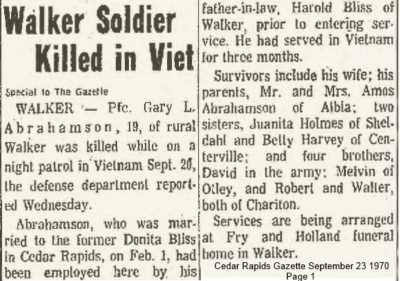 In the Northern Union Outlook Church letter dated October 6, 1970, the following article was written:
The ravages of the Vietnam war were brought home to Iowa Adventists with the death of Gary L. Abrahamson on September 20 in Vietnam. Gary, a graduate of Oak Park Academy (OPA), was a member of the Albia, Iowa Church.

His bride, Donita, of only a few months, is a member of the Cedar Rapids, Iowa Church. She is the daughter of Mr. and Mrs. Harold Bliss of Walker, Iowa, also Cedar Rapids members.

Gary's parents, Mr. and Mrs. Amos Abrahamson, are now living in West Des Moines, Iowa, and are in chage of the department of maintenance department of the new conference office. They formerly lived in Albia.

Church members in Des Moines, Cedar Rapids, Albia, former classmates of OPA and the present acaody and faculty joined relatives in mourning the loss of this fine Christian boy.

The funeral was held in the Christian Church of Albia, Monday, September 27 with burial in Oak View Cemetery in Albia.

F.J. Kinsey and Luther May officated. Chester Shuake sang for the service. Mrs. Merle Cook from Des Moines, was organist.

A military honor guard from Fort Leavenworth, Kansas was present and acted as pall bearers and performed military honors at the grave. The Howard Cessna Post No. 136 of the American Legion was present as color guard. Honorary bearers were Nevin Strub, Robert Ahrens, Mark Johnson, Lanny Phillips, John Clemenson and Charles Griffin. The city of Albia lowered flags to half-mast on the day of the funeral.

Gary was a Medic with the 198th Infantry Brigade of the Americal Division. He was killed while on a night patrol.

He was born in Albia, January 19, 1951. He entered military service August 26, 1969, and left for Vietnam July 1, 1970. He was married to Donita K. Bliss on February 1, 1970.

Surviving are his wife, Donita; his parents, Mr. and Mrs. Amos Abrahamson o West Des Moines; two sisters, Mrs. Arlan (Betty) Hervey of Centerville and Mrs. Richard (Juanita) Holmes of Sheldahl; four brothers, Robert and Walter of Chariton, Melvin of Otley. and SP/4 David with the U.S. Army.

Gary's death was not in vain. A former classmate who attended the funeral sent Elder Kinsey the following letter:

"I very much appreciated your sermon at Gary Abrahamson's funeral. It means a lot to me and said a lot to me. I was wondering if you would send me a copy ot it? And please include what you said for Elder May.

"You probably remember that you baptized me . . . since that time I have strayed from what I should have been doing but your rnesage and Gary's funeral brought be back. I think your speculation for the possible reason for his death were true - - both reasons, especially the second reason - - that was for me, of that I am sure - - I wish I could have done something but I can't.

"I know I will have a hard time on the road I have chosen but God is on my side, for that I am glad. Please pray for me and send the copy of the sermon as soon as you can."
F. J. Kinsey,
Lay Activities Director
Iowa Conference.
---
His wife, Donita Kay Bliss Abrahamson Brownlee was living with her parents Irene and Harold Deloy Bliss (1926 - 2014), Walker Iowa, at the time of Gary's death. Since his death, both of his parents, Jessie L Abrahamson (1916 - 2004) and Amos Abrahamson (1914 - 1993) passed away.
CPL Gary Lee Abrahamson and his parents are buried in Oakview Cemetery, Albia, Monroe County, Iowa.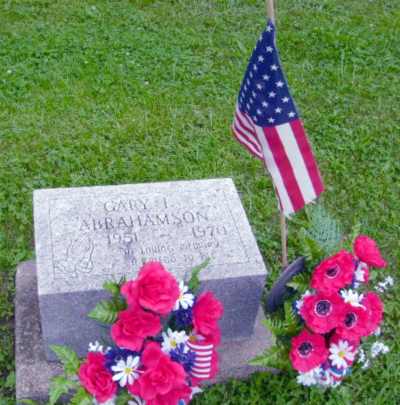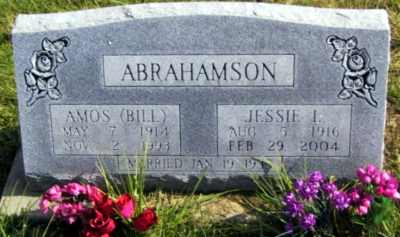 ---
- - The Virtual Wall, June 25, 2014