Kenneth Edward Aleshire
Specialist Four
C CO, 4TH BN, 9TH INF RGT, 25 INF DIV
Army of the United States
18 February 1948 - 27 February 1968
Philadelphia, PA
Panel 41E Line 047
The database page for Kenneth Edward Aleshire
30 Nov 2002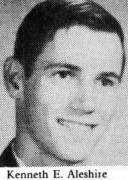 The photo and following article is taken from The Philadelphia Daily News, special supplement entitled 'SIX HUNDRED AND THIRTY,' October 26, 1987. The special supplement was issued in conjunction with the dedication of the Philadelphia Viet Nam Memorial.
"In his short life, he brought much joy to many people", Aleshire's parents said. Their son had been an outstanding baseball player since his days in the Olney Midget Baseball League, and dreamed of making the major leagues. Nicknamed "The Kid," he was a star pitcher on Olney High School teams in the mid-1960's. Aleshire turned down an athletic scholarship to Temple University, playing instead for Jenkintown (PA) in the Pendel League after graduating from Olney. He had caught the eye of several major league scouts, and arranged to be drafted earlier so he could complete his military obligation and get on with a baseball career. Aleshire was inducted into the Army in April 1967 and shipped out to Viet Nam the following September to join Company C of the 4th Battalion, 9th Infantry, 25th Infantry Division. The specialist four, a rifleman, was killed on February 27, 1968, nine days after his 20th birthday, when his combat unit came under heavy fire near Saigon. Aleshire twice drew fire upon himself to allow other men in his unit to seek cover. He was posthumously awarded the Silver Star. A memorial fund established in his memory has resulted in many boys attending a Christian athlete's camp. The fund now helps endow athletic organizations. Aleshire was survived by his parents and two brothers.
From a native Philadelphian and Marine,
Jim McIlhenney
christianamacks@comcast.net
28 Nov 2003

Dear Ken,

A very long time has passed since March of 1967 when we last saw each other ("Holden, what are you doing?"). I have visited Vietnam many times over the years. I always visit different war sites to write down in "visitor comment books" that you and Braxton were part of Olney Elementary 1962 and Olney High 1966. You and John will never be forgotten. I think you would be really glad to know that today I made a visit to your resting place at Lawnview. I never intend to forget the ultimate sacrifice that my childhood friend made many years ago.

Your friend,

Bill Holden
223 Levick Street, Philadelphia PA 19111
wholden@phila.k12.pa.us
A Note from The Virtual Wall
In his addendum, Mr. Holden refers to PFC John Alan Braxton of A Company, 1/506th Infantry, who died on 26 July 1969 of wounds received while fighting in the A Shau Valley.
The point-of-contact for this memorial is
a native Philadelphian and Viet Nam Veteran,
Jim McIlhenney
christianamacks@comcast.net
30 Nov 2002
---
With all respect
Jim Schueckler, former CW2, US Army
Ken Davis, Commander, United States Navy (Ret)
Channing Prothro, former CAP Marine
Last updated 11/30/2003