Second born of Eleanor and Alden "Skip" Allen, Merlin "Merl" Allen was raised in Bayfield, Wisconsin where he graduated in 1965.
Upon graduating from high school and before being inducted in the US Marine Corp, Merl sailed on the William G. Mather of the Interlake Steamship Company and also worked at his uncle's machine shop. He entered the Marine Corps in late October 1965.
Merl loved being a Marine and Reconner. Trained as a radio operator, he served in Danang, Khe Sanh, and Phu Bai. His letters home were filled with stories of friends and experiences, but he was most proud of his decision to join Team Striker of the 3rd Recon Bn, 3rd Marine Division early in 1967.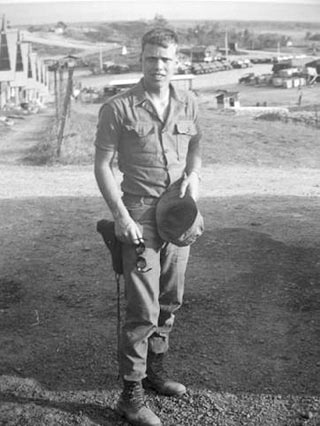 On June 30, 1967, Captain John A House was flying 11 members of a Reconnaissance Patrol into a Landing Zone, and received heavy small arms, automatic weapons, and anti-aircraft fire from ridgelines and treelines near the LZ. The helicopter was hit and burst into flames. He aborted the landing, but with the craft severly damaged.
He was able to fly a short distance with the chopper on fire but was finally forced to make a crash landing in tall jungle canopy on a hillside approximately 1000 meters away. According to Lieutenant Colonel William R. Beeler (U.S. Marine Corps, July 1, 1967 letter to Jack's parents), the co-pilot (Ted Pittman) managed to escape along with the two enlisted crew members and four of an eight man reconnaissance team.
Prior to being rescued, two of the lesser injured reconnaissance team members returned to the scene of the crash and verified the crash scene. Jack's parents were contacted by the co-pilot and he told them that Jack was not injured from fire or the crash, but tree branches stopped his exit from the helicopter and just before he was able to get free, the helicopter exploded.
Five men were not recovered from that downed helicopter. The five missing men were:
One of the survivors, Lance Corporal Dennis Mitchell Perry, A/3 Recon, died on 02 July 67 of injuries received. One of the other survivors, patrol leader Sergeant Eugene Castaneda, returned to duty and was killed in action on 12 August 1967.
It was 16 years later when Merl's best friend in Vietnam and survivor of the helicopter crash, Jeff Savelkoul along with another survivor, Mariano (Junior) Guy, appeared at the house to provide the family the circumstances of Merl's death.
In April 2017, the Department of Defense announced that House, Runnells, and Killen were accounted for. Two additional service members were previously identified from this crash in 2012, Marine Lance Cpl. Merlin R. Allen and Navy Hospital Corpsman 3rd Class Michael B. Judd. Their remains were returned to their families in February 2013 for burial with full military honors.
The seven Marines who survived the horrific crash and all testified in their debriefing that if it weren't for the calmness, skill, and training of their pilot and brother Jack House, they wouldn't have made it out alive. Based on their reports, Captain House was posthumously awarded the Distinguished Flying Cross.
---
"Merl" Raye Allen was survived by his mother Eleanor O. (Dover) Allen (1924-1999), and father Alden E. Allen 1914-2001. At the time of his burial he was survived by surviving brothers and sisters, Marilyn (Ralph) Neff of Saynor, Wisconsin, Cindy (Bart) Hawkins of Anchorage, Alaska, Casey (Kathy) Allen of Denham Springs, Louisiana, Sheila (Rick) Kelly of Washburn, Wisconsin, and Sean (Cheri) Allen of Cambridge, Minnesota.
In addition to his brothers and sisters, Merl is an uncle 10 times over and a great uncle 12 times. Merl's aunts, uncles and cousins stretch from Wyoming to Wisconsin to Florida.
Allen's father bought York Island (Lake Superior Apostle Islands) in the late 1930s, and the family was forced to sell it to the federal government when the Apostle Islands National Lakeshore was created in the early '70s. But before they sold the island, they gave a few acres to the Town of Russell, Wisconsin, where Allen's parents are now buried and a small memorial for Allen was installed.
On Saturday, June 29, 2013, after memorial services were completed in the Bayfield High School Gymnasium, his family, the two men who returned his remains to his family, and other well-wishers boarded a Landing Craft Tank that saw action in the D-Day invasion. Under sunny skies with waves gently lapping against the ship, they carried his remains to York Island where he was buried.
It was the eve of the 46th anniversary of Lance Cpl. Merlin Raye Allen's death. He was home at last.
Merl has a full biography here and also has an In Memory Marker placed in the National Memorial Cemetery of the Pacific, Honolulu, Hawaii.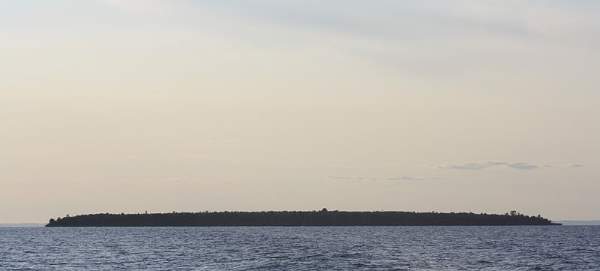 ---
Additional information is available on the Pop-A-Smoke site

---
- - - The Virtual Wall, September 21, 2017