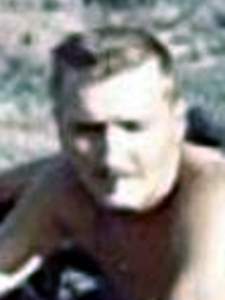 Jim built a still in a stream on the Cambodian border, could short track an APC in the field, seemed able to see in the dark, chewed tobacco and drank six cans of beer every day and swore about everything constantly, but loved my 'goody' packages from home.
He and I joined the First Platoon in the field on the same day, sat side by side to eat our first dinner together in the woods of Vietnam, filled our first sandbags and built a bunker to share together at Katum.
During those six months together we shared experiences and emotions and out of the fear of this new existence for both of us, we forged a bond unlike anything either of us had ever known. For me there has never been nor can there ever be another friendship like the one created from November 15, 1967 to May 9, 1968 with Jim.
I took the accompanying picture on May 6th while on LP with Jim at a place we called Rainy Towers. Just three days later Jim, Sam Linville and Claude Protz died together in an explosion on the APC they were riding.
John Holochwost

Photo courtesy of John Holochwost
---
Visit the BOBCATS of the




5TH INFANTRY REGIMENT