05 Jan 2000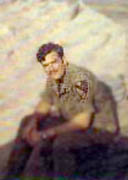 From the
Silver Spurs, A Troop 3/17 Cavalry
web site:
SYNOPSIS: The 3rd Squadron, 17th Cavalry was part of the 12th Aviation Group during its service in Vietnam. It was responsible for air cavalry support in the western part of III Corps Tactical Zone. In late 1970 it was placed under the operational control of the Ist Cavalry Division to form a highly successful ad hoc air cavalry brigade.
On July 24, 1971, WO1 Timothy G. Wiltrout, pilot; Sgt. Gregory A. Antunano, observer; and SP4 Randall D. Dalton , door gunner; were crew members on an OH-6A "Loach" observation helicopter (serial 68-17257) which was shot down by enemy fire while on a reconnaissance mission in Cambodia. The aircraft went down about 5 miles inside Cambodia, in Kracheh Province, just a few miles southeast of the city of Snuol.
When rescuers arrived at the crash site, they found the pilot outside the downed aircraft. He suffered a broken leg in the incident, but was otherwise unhurt. The other two crew members were still strapped in their seats inside the wreckage. Both were taken out of the helicopter and at that time, SP/4 Dalton was still alive. Sgt. Antunano was believed to be dead.
[3/17th Note: According to Vern Gregrory, Spur Observer, the aircraft crashed in triple-canopy jungle. The medic had to be lowered through the thick jungle canopy via a penetrator to reach the wreckage and evacuate the pilot, WO1 Wiltrout. This thick canopy greatly impacted efforts to recover the bodies of Gregory Antunano and Randall Dalton. Vern states "We did recon that area the next day."]
A short time later, SP/4 Dalton stopped breathing. Efforts to revive him were unsuccessful. The medic checked both Dalton and Antunano several times, and told other rescuers that they were dead.
With the heavy concentration of enemy soldiers in the area, search and rescue aircraft evacuated the rescue team and Wiltrout, the pilot. Because of overwhelming enemy presence, no attempt was made to extract the two bodies. They were left lying near the downed helicopter.
The following day, several SAR aircraft returned to the location in an attempt to recover Antunano and Dalton, but noted that the aircraft had been stripped and moved several feet. Personal effects of the crew, such as their helmets, weapons and the aircraft radio had also been removed. Sgt. Antunano and SP/4 Dalton's bodies were gone. A search of the area from the air did not reveal fresh graves or any sign of the two men.
Antunano and Dalton's bodies were never found. They are listed with honor among the missing because their remains are still on enemy soil.


---

Additional Information

10/00: NOTE - DIA/DoD lists Antunano and Dalton at this time officially as KIA/BNR and there are no future plans for recovery at this time. Since their bodies were moved by the NVA it will be most difficult locating their remains, but with new cooperation from the Cambodia authorities, (see: DASD Jones Cambodia/China Trip Report, 24 Jan - 01 Feb 00) we will continue to work for their return.


---
11/00: Reference Randall Dalton from Bob Wallace*:
"I will do whatever it takes to ensure that my best friend's remains are returned to U.S. soil for burial at his Memorial Site in Illinois. I would like to get feedback from anyone who knew Randy in Vietnam or has additional info about him, ANY.
Thanks,
Bob Wallace"
* Bob served with the 3rd/14th on the Czech border, border ops in Germany.
Roger Young - Webmaster,
Silver Spurs, A Troop 3/17 Cavalry