THE MEMORIAL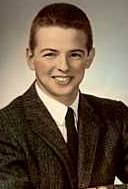 As scoutmaster of a Boy Scout troop 1958 to 1960, I was privileged to meet the young Richard. He was a fine boy, well liked by all in his troop. I had been away from scouting for a little over four years and had some catching up to do on some of the new methods in scouting. As my Junior Assistant Scoutmaster, "Dick" was a big help to me. The handsome, young man in my memory looks much like this - 1964 Barnstable High School graduation portrait.
After moving away from the Cape in 1960, I lost touch with Richard, but did hear from friends on the Cape that he had joined the Navy. Moving back here in 1980, I learned he had been killed in Nam and he was the first man from the Town Of Barnstable killed in the Vietnam War.
In 1990 I visited the Moving Wall upon its visit to Hyannis and found his name inscribed on it. The memories of him brought a lump to my throat and tears to my eyes. My thoughts were why and how did this fine lad die at such a young age, before he could really live his life.
I have been fortunate to have found and corresponded with several men who served with him. I also located his father, Arthur, still living nearby, who graciously invited me to visit.
Richard has been honored in numerous ways by shipmates, friends, and the government.
---
THE ACTION
On 25 September 1967 MANSFIELD was one of several destroyers conducting SEA DRAGON operations along the North Vietnam coastline in the vicinity of Dong Hoi. After a north-to-south firing run, the Officer in Tactical Command ordered a starboard 180 degree turn in preparation for a south-to-north run, bringing the ships closer to the shoreline on a track parallel to the earlier N/S run.

MM2 Archer's General Quarters assignment was with a damage control party (Repair 5) positioned amidships.

During the second run, North Vietnamese shore batteries responded vigorously. A single shell hit MANSFIELD at the base of her #1 stack, causing minor damage to the ship. MANSFIELD silenced the shore battery ... but Petty Officer Archer was dead and two of his shipmates were seriously injured.


---
Visit the
USS MANSFIELD