Born to Margaret Frady Cail (1899-1959) and Hubart Armstrong (1898-1942) in Dalton, Whitfield County Georgia. It's unknown what type of troubles the family may have encountered but in the 1930 Census, Eugene was living in "The Children's Home", a sanctuary organization for children and families, in Winston-Salem.
The 1940 census shows as of 1935, he was still living in Winston-Salem but by 1940, at age 19, he was in the army, living on Sullivans Island, Charleston, specifically at Fort Maultrie and States Hospital. He had completed 4 years of High School and was single at the time. He enlisted in the active Army in February 1940 and by the end of World War II, he had married his wife, Ethel G. Armstrong.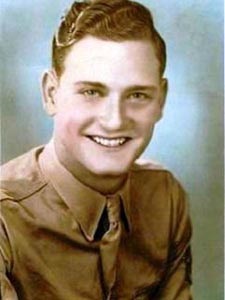 He served in World War II and according to his press release below, he was at Pearl Harbor on December 7, 1941. He spent 4 years overseas including service with the 27th Infantry Division on Saipan and Tinian. He was present for the Battle of Saipan (13 June - 9 July 1944) also called "D-Day in the Pacific". CWO Armstrong's press release mentions Aslito Airfield and Magicienne Bay, to the east of Aslito.
On July 11, 1945, when he registered for the draft, the card had the comment "Unemployed - Just just discharged from army". This card listed Ethel as his wife. It's unknown when he re-entered on active duty for Korea.
In January 1955, Mrs. Ethel K Armstrong set sail on the USNS General Alexander Patch (Transport Ship) to Bremerhaven Germany with an expected stay of 3 years. She was residing at 640 Holly Street, the same address as listed on Eugene's Draft Registration in 1945.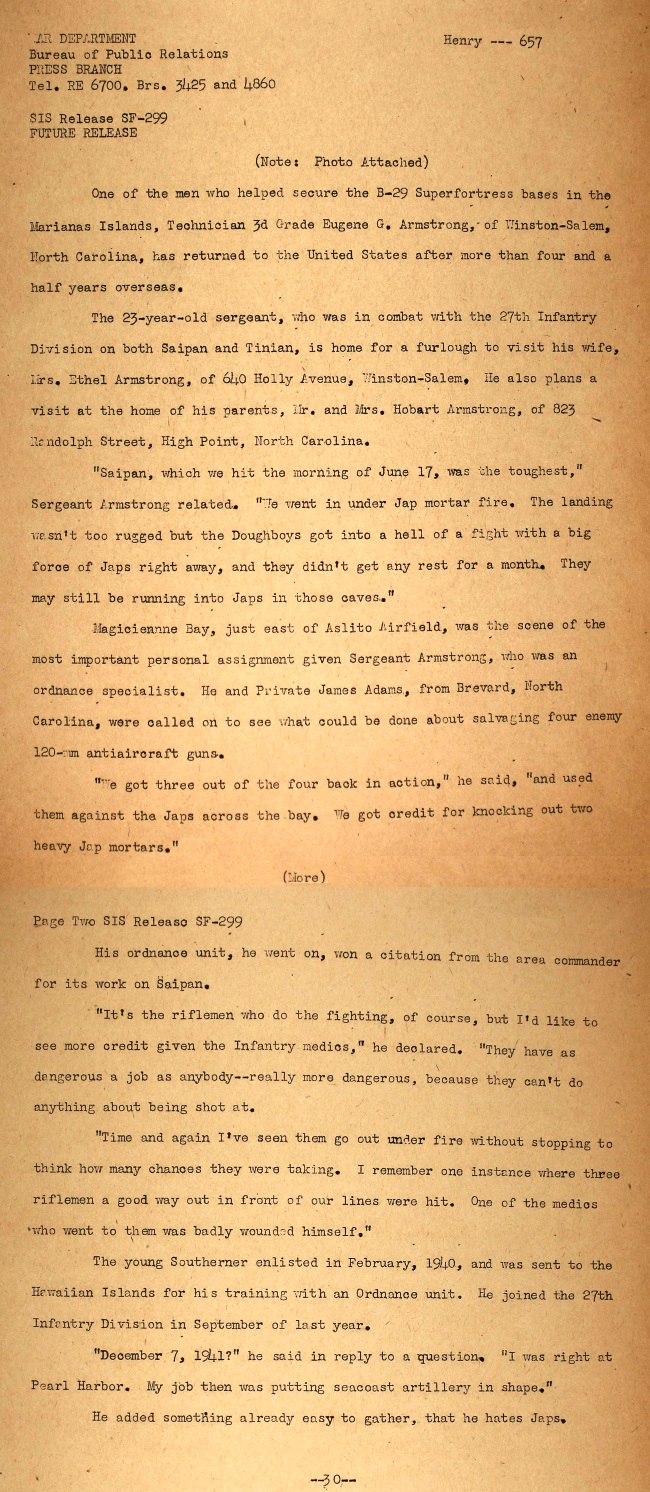 ---
On November 9, 1966, in one of the Washington area papers had published an article about how the military services return the bodies to the States from overseas. Below is just one small piece of information about one of the two men who were coming home.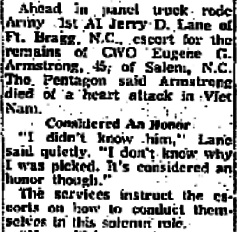 At the time of his death, Eugene was survived by his wife, Ethel Huff (Kapp) Armstrong (1922- ), son Eugene, Jr. and mother Margaret. His father predecesed him when he was killed on November 27, 1942 while serving in the Army in the Hawaiian Islands.
CWO Armstrong's one son, Eugene Gerald Armstrong, Jr., was named Jr. even though Eugene was not a "Sr.". As of 2015, Ethel and her son Eugene still reside in Winston Salem. A news article about son Gene restoring a violin appeared in the Winston Salem Journal in June. She was 94. It's undetermined if CWO Armstrong had any siblings who survived him.
CWO Armstrong is buried in Arlington National Cemetery, Arlington, Virginia.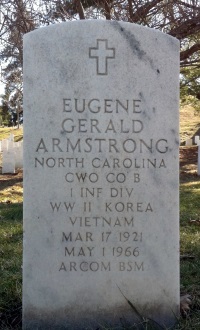 ---
- - The Virtual Wall, September 15, 2016