4 Dec 2004

Curtis was a West Texas guy. He was born in Rotan, Texas. He lived his early life there and in Colorado City, Texas. He attended Colorado City schools. He enlisted in the U.S. Navy within months after high school from Sweetwater, Texas. He was trained in electronics, but then applied for and was accepted as a Navy Seal. He did 2 tours in Vietnam, the first in 1967-68 with Seal Team 7 and then he returned in 1969 with Seal Team 2 and was killed on a mission on December 27, 1969. According to his Seal Team buddies, he would go any where at any time and perform any job. He is reported to have completed some 150 Seal missions before his death. He was also reported to be deadly with the Stoner Machine gun. He was awarded the Navy Distinguished Service Medal, along with many awards for valor. He is remembered by the Permian Basin Vietnam Memorial in Midland, Texas.


---

22 Sep 2006

When the Permian Basin Vietnam Veteran's Memorial was dedicated in 1994, Curtis was listed with Mitchell County, Texas and his name appears that way at the Memorial Site near the Midland International Airport. That is in error. He was from Nolan County, Texas. His family moved to Sweetwater when he was seven. He attended Sweetwater High School his sophomore year and then Tye High School in Tye, Texas, his junior year. He dropped out before his senior year and joined the Navy from Sweetwater.

He was known as Butch to his family and friends. Butch is a first cousin to Johnnye Ashton Blakeley, the widow of Major Roy J. Blakeley, U.S. Air Force, of Rotan who also perished in Vietnam.


---

From a PBVVM representative,
Billy M. Brown
4015 Melody Lane, Odessa, Texas 79762
bmbrown@grandecom.net



---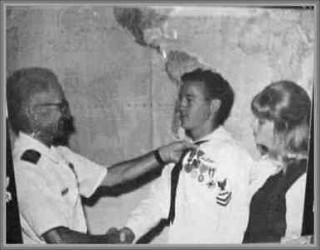 Petty Officer Ashton receiving the Distinguished Service Medal
and other awards following his first tour in Vietnam. His wife,
Stephanie Jo Huddleston Ashton, looks on.