Howard T Atkinson
Specialist Four
HHC, 65TH ENG BN, 25 INF DIV
Army of the United States
25 August 1946 - 23 February 1969
Philadelphia, PA
Panel 32W Line 088
The database page for Howard T Atkinson
21 Dec 2002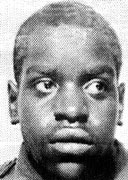 The photo and following article are taken from The Philadelphia Daily News, special supplement entitled 'SIX HUNDRED AND THIRTY,' October 26, 1987. The special supplement was issued in conjunction with the dedication of the Philadelphia Viet Nam Memorial.
Atkinson began a family tradition when he enlisted in the Army in November 1965: three of his four brothers followed his lead by joining the Armed Forces. The 22-year-old specialist four, a medic with Headquarters and Headquarters Company of the 65th Engineer Battalion, 25th Infantry Division, was on his second tour of duty in Viet Nam when he died on February 23, 1969, in a attack on the Dau Tieng Base Camp, Atkinson saved his sergeant and refused to leave wounded comrades before he lost his own life. He was posthumously awarded the Silver Star. The former Overbrook High School student was survived by his parents, four brothers and three sisters.
From a native Philadelphian and Marine,
Jim McIlhenney
christianamacks@comcast.net
Visit John Dennison's
Medics on the Wall
memorial which honors the
Army Medics and Navy Corpsmen who died in Vietnam.
The point-of-contact for this memorial is
a native Philadelphian and Viet Nam veteran,
Jim McIlhenney
christianamacks@comcast.net
21 Dec 2002
---
With all respect
Jim Schueckler, former CW2, US Army
Ken Davis, Commander, United States Navy (Ret)
Channing Prothro, former CAP Marine
Last updated 12/21/2002