16 Nov 2004

I went to to Moreland Elementary with Henry and also Bass. I too have thought of Henry often over the years and have visited the Wall and found his name. I watch Vietnam movies and think of him.

And I think partially because of him I became opposed to the War. I went to college rather than the Marines.

I also remember that in ROTC at Bass 11th grade year, I was a Second Lieutenant and Henry was in my platoon. And he was a pain in the butt. He didn't seem to like ROTC and the drilling, few people did. It was hard telling my friends and schoolmates what to do, and it showed me how hard it would be to have people telling me what to do in the military. That is what was so amazing that a group of guys dropped out of school in 1968 to join. Henry was one of them. They hated ROTC. I later applied as a Concientious Objector, I hated the war and guys like Henry dying.

I can remember Henry at both Moreland and Bass, and the thing I remember most is his smile. He had a good smile. I also remember playing football with him and that he was always in good shape and seemed to take easily to athletics, where I had to work at it. He also hung out with David Seay. They were buds from as early as I can remember. This is one time I did really get mad at Henry and it's a strange memory, but it also shows how I couldn't stay mad at him. It was summer football practice and he wore my new shorts out to practice without asking me. When they came back they looked like they had been through a war. I was pissed at him, but he laughed and I forgave him.

It's been a long time, and this new war has reminded me of him, and it reminds me of the guys dying. I don't like war, I don't like individuals like Henry getting killed and I think about their moms and famlies. But I do respect them. I respect Henry and his choice and that he went our and did what he thought was right. Wars are fought by the young, because it's to hard to get an adult to risk their lives. Henry was a WARRIOR.

From a friend,
Steve Peace
sweeping@mindspring.com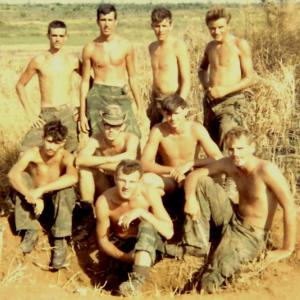 Henry is on the middle row far right.