Bobby Joe Barefield
Private First Class
C CO, 1ST BN, 5TH INF RGT, 25 INF DIV
Army of the United States
05 March 1948 - 26 May 1966
Mesa, AZ
Panel 07E Line 109
The database page for Bobby Joe Barefield
05 Nov 2002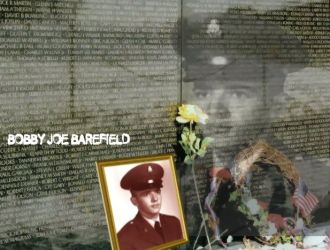 Bobby,
you may have been taken from the world early
but you will always be remembered
by your family and friends forever.
From his nephew,
Ralph L. Barefield
Dardanelle Ar 72834
ralph2658@hotmail.com

The photo montage above was prepared by
and is used with the kind permission of
Judy Green.
Provided by Ralph Barefield
THE WHITE HOUSE

WASHINGTON
June 20, 1966





Dear Mr. and Mrs. Barefield:

It was with deep regret that I learned of the death of your son, Private First Class Bobby J. Barefield, United States Army, while serving in Vietnam.

Your son was a soldier who served his country well and performed his duties in an efficient manner. His fine soldierly qualities and devotion to duty earned for him the admiration and respect of his military associates.

While I realize that words cannot lessen your grief, I sincerely hope that you will find comfort and strength in the knowledge that our Nation is deeply grateful for his contribution to its security.

Mrs. Johnson joins me in extending our deepest sympathy to you in your tragic loss.

Sincerely,




Mr. and Mrs. Ralph Barefield
1718 West Broadway
Mesa, Arizona 85201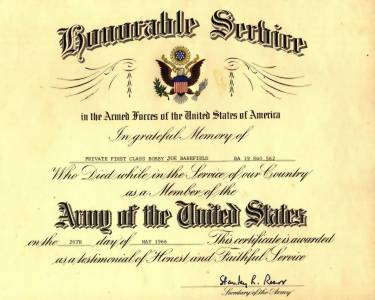 Provided by his mother,
Anita Barefield
Russellville, Arkansas
A Note from The Virtual Wall
Even without enemy action a combat zone is deadly. According to the 5th Infantry History, PFC Barefield had been out on a night ambush. When morning came and his ambush team prepared to return to the company perimeter, PFC Barefield was disarming a Claymore mine when it exploded, inflicting fatal injuries.
A month earlier a Claymore detonated during a training session, killing two and wounding several others. As it happened, the sixth victim of that accident also died on 26 May 1966 - PFC Robert Smith of Headquarters Company.
Bobby Joe Barefield
is remembered by his comrades from the



5th Infantry - the Bobcats
The point-of-contact for this memorial is
his nephew,
Ralph L. Barefield
Dardanelle Ar 72834
ralph2658@hotmail.com
5 Nov 2002
---
With all respect
Jim Schueckler, former CW2, US Army
Ken Davis, Commander, United States Navy (Ret)
Channing Prothro, former CAP Marine
Last updated 03/30/2004