12 Mar 1998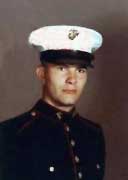 On November 29, 1966, Mike roused us out of our foxholes with a laugh, as he did almost every morning. He strolled past us singing, laughing, and joking with everyone. As we laughed, grateful that he was there to take our minds off reality for a few brief moments, he moved on.
Mike was walking point that day as we moved deeper into the Cua Valley, just south of the DMZ. As we passed the edge of a village, I heard several rapid shots. Somebody shouted that Mike was down. I ran to the site and, reaching his side, found him propped on his elbow. He looked toward me. His mouth was moving, but no words were coming out. The corpsman arrived, Mike had his eyes open, and he looked okay to me. Only in the movies is there time to stop and comfort the wounded. In this very real battle, Mike could only watch as I ran off to join the fight.
Later, as we secured the perimeter and waited for the medevac choppers, I pondered his return to the states. I began to plan the fun we were sure to have when I got home. I even envisioned the "Welcome Home" hug I was sure to get.
Then I watched as four Marines picked him up by his wrists and ankles and ran across the field toward the chopper. His head was hanging backwards, almost bumping along the ground as they ran. I wanted to yell at them; to scream and tell them that was no way to treat a wounded man...
There would be no welcome home hug from Mike.
From a buddy,
Tim Duffie
tduffie@cinci.rr.com


---

My CAPVet site is dedicated to Mike Baranowski ...
it is located at
http://www.capmarine.com/