Howard Lynn Bartley
Private First Class
C CO, 1ST BN, 27TH INF RGT, 25 INF DIV
Army of the United States
11 May 1948 - 01 November 1967
Coahoma, Texas
Panel 28E Line 107
The database page for Howard Lynn Bartley
23 Sep 2004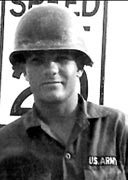 Howard Lynn Bartley attended Coahoma, Texas schools. Coahoma is a small oilfield and agriculture town on the eastern side of Big Spring, Texas in Howard County. Howard was drafted into the Army a year after he dropped out of high school. He was working in the oilfields around Coahoma, Snyder, Forsan and Big Spring. He married his wife in Coahoma, Texas while home on leave. He departed for Vietnam on August 13, 1967 and was killed on November 1, 1967 from multiple fragment wounds. He loved Colorado and is buried in Cortez, Cemetery in Cortez, Montezuma County, Colorado.
He is remembered by his community, the Big Spring Vietnam Memorial and by the Permian Basin Vietnam Veterans' Memorial in Midland, Texas. May his sacrifice never be forgotten.
A Note from The Virtual Wall
C Company, 1/27th Infantry, lost two men on 01 Nov 1967 - Sergeant Albert Brillo and PFC Howard L. Bartley of Coahoma, Texas.
The point-of-contact for this memorial is
a PBVVM Representative,
Billy M. Brown
4015 Melody Lane, Odessa, Texas 79762
bmbrown@grandecom.net
23 Sep 2004
---
With all respect
Jim Schueckler, former CW2, US Army
Ken Davis, Commander, United States Navy (Ret)
Channing Prothro, former CAP Marine
Last updated 09/23/2004