Remembering
Jim Albert Barton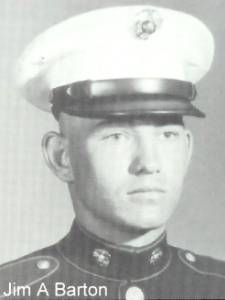 Private First Class, United States Marine Corps
I CO, 3RD BN, 3RD MARINES, 3RD MARDIV
From Great Falls, MT
21 April 1950 - 08 May 1969
Jim Albert Barton is on the Vietnam Veterans Memorial, Panel 25W Line 020.
05 Aug 2003
I knew Jim in Great Falls while growing up. Then later we met again at Boot Camp. Platoon 1022, The Montana Platoon. While at rifle range Jim was whistling, and the whole platoon was in trouble because of it. Nobody gave up Jim that day, we all took our licks.
Jim A. Barton is buried in the New Highland Cemetery, Cascade County, Montana.
The point-of-contact for this memorial is
a friend and fellow Marine,
Kip Mason

E-Mail may be forwarded via the
Webmaster@VirtualWall.org

The database page for Jim Albert Barton

www.VirtualWall.org
To alpha index B
MT State Index . Panel 25W
3RD MARINES Index
Webmaster@VirtualWall.org
5 Aug 2003
Last updated 08/07/2003