Ludwig George Baumann
Major
16TH TAC RECON SQDN, 460TH TRW, 7TH AF
United States Air Force
19 April 1931 - 30 January 1969
Plainfield, New Jersey
Panel 33W Line 018
The database page for Ludwig George Baumann
Maj. Ludwig G. Baumann was buried in Fort Sam Houston National Cemetary with full military honors on Sat. February 15, 1969. He was in Vietnam from Aug. 27, 1968 until his death in Jan. 1969.

He served for 15 years in the Air Force as a navigator on B-52's as well as F-4 reconnaissance jets. He was assigned to the 46th Tactical Reconnaissance Wing when he was killed in action. He was also at one time an instructor at Mather AFB in California. He had planned to work as a military attache after his tour of duty in Vietnam.

He was survived by his wife and 3 girls living in Fort Worth,TX, as well as his parents (now deceased) who lived in Plainfield, NJ. His family remembers him as a loving husband and father who served his country with pride.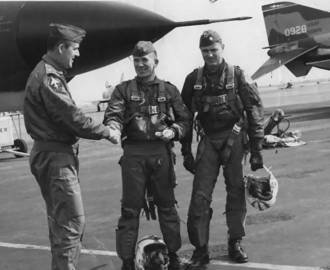 Baumann (right) with pilot and CO, 7th TRS, Mountain Home AFB
The point-of-contact for this memorial is
his daughters,
Brenda Elise Baumann Rea,
Deborah Ann Baumann Wilcox, And
Melinda
The4Reas@att.net

---
With all respect
Jim Schueckler, former CW2, US Army
Ken Davis, Commander, United States Navy (Ret)
Memorial first published on 10 Oct 2001
Last updated 07/12/2007