A Note from The Virtual Wall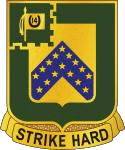 H Troop, 16th Cavalry
didn't really exist. As explained in Shelby Stanton's Vietnam Order of Battle, the unit really was designated F Troop, 1st Squadron, 9th Cavalry:
"Troop F was raised to provide reconnaissance for the separate 3d Brigade, 1st Cav Div, after the bulk of the division departed Vietnam. It served under the aviation battalion then with the brigade, the 229th; in 1973 the troop was inactivated. It should also be noted F Troop was formed unofficially as H Troop, 16th Cavalry, a designation never approved by the Department of the Army, and remained known by this unauthorized title in Vietnam until about May 1972."


F Troop, 1st Squadron, 9th Cavalry
Because the unit was known in Vietnam as H/16th Cavalry and because SP5 Beavers' family has advised that the Citations to his decorations reflect assignment to H Troop, 16th Cavalry, The Virtual Wall has chosen to group him with other men assigned to the 16th Cavalry Regiment while recognizing that some sources will show assignment to other units (the Vietnam Helicopter Pilots' Association, for example, associates SP5 Beavers with E Troop, 1/9 Cavalry, a provisional unit inactivated in June 1971).