Steven Lee Beck
First Lieutenant
DIV HHC, 1ST INFANTRY DIVISION, USARV
Army of the United States
27 August 1944 - 13 September 1968
Atherton, California
Panel 44W Line 045
The database page for Steven Lee Beck
28 March 2003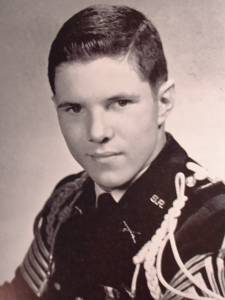 Although I did not know him personally, Steven Beck was born in 1946 and was killed in Vietnam in 1968. He was graduated from the San Raphael Military Academy in 1963. While in high school he was active in sports and attained the rank of Cadet Lieutenant Colonel and was Commander of the Cadet Battalion. It was his desire to become a career Army Officer.
After attending Oregon State University for two years he entered the Army in 1966 and was trained as an artilleryman. He then attended Officer Candidate School, receiving a commission as a Second Lieutenant of Artillery and assignment to Vietnam in early 1968. During his recovery from wounds received while in the Parrot's Beak, he was selected as Major General Keith Ware's aide-de-camp. He served in that position until his death on 13 Sep 1968.
The San Raphael Military Academy Class of 1969 sponsored the construction of an on-campus rose garden dedicated in his memory.
From a friend,
John C. Pursley (USMC 1970-72)
1007 N W Fuschia Court, Silverdale WA 98383
E-Mail address not available
29 Sep 2005

My name is Bruce McLaughlin (44 yrs, of Milledgeville, GA). I was reviewing photos I took of the memorial in DC. While trying to explain why in my pictures of the Wall I have images of civilians (in 40's attire) in the background, I decided to look Beck's name up on the net (his name was clear in the picture on the Wall). I too was a commander in my initial education at Georgia Military College.

I would like to share this picture with others. I plan to take more from the same spot on 8, Oct. 2005 on my next visit.

God Bless our troops who serve our country!

J. Bruce McLaughlin
Riverview, FL (Formerly, Georgia)
jbmsdc@aol.com

19 Nov 2005

I was 13 when I wrote this and dedicate it to Lt. Stephen Beck today:

There were wars but not like this,
Vietcongs fighting the Vietnamese;
Our Marines and Army fighting today,
Killing the enemy and meeting their death;
Fighting for their country, stepping on land mines,
Fighting for Freedom, not missing those mines;
M1, M17, and M Sixteen,
Using these weapons will help us win;
Grenades and war tanks will help us win too,
Pray for our soldiers and even for you.
Rest In Peace Sir!

From a fellow American,
Jesse Thomas Quinata
jesse_quinata@yahoo.com

Notes from The Virtual Wall
On 13 Sep 1968, B Company, 1st Avn Bn, 1st Inf Div, provided the command and control helicopter (UH-1H tail number 67-17552) for the Division's Commanding General, Major General Keith L. Ware. The Huey was carrying a crew of four and the CG's party of four passengers when it exploded in mid-air and crashed southeast of Loc Ninh with no survivors.
B Co, 1st Aviation Battalion aircrewmen:

CW2 William Manzanares, Jr, pilot
CPT Gerald W. Plunkett, copilot
SP5 Jose D. Gutierrez-Velaz, crew chief
SP4 Raymond Edward Lanter, gunner



1st Infantry Division Command Group:

MGen Keith L. Ware, Commanding General (Medal of Honor)
LTC Henry M. Oliver
1LT Steven L. Beck
SgtMaj Joseph A. Venable
Major General Ware had been decorated with the Medal of Honor for his actions as Commander, 1st Battalion, 15th Infantry, in World War II. He also received the Distinguished Service Cross and Silver Star for personal valor in combat.
The point-of-contact for this memorial is
a friend,
John C. Pursley (USMC 1970-72)
1007 N W Fuschia Court, Silverdale WA 98383
E-Mail address not available
28 Mar 2003
---
With all respect
Jim Schueckler, former CW2, US Army
Ken Davis, Commander, United States Navy (Ret)
Last updated 11/19/2005