06 Apr 2008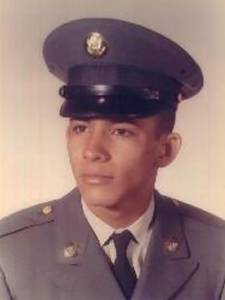 My brother was CPL Robert William Benjamin, 101st Airborne, 7/15/47-11/3/68.
He grew up in Hawaii, and although I was born in Hawaii, I grew up in Georgia.
I was not aware that I had an older brother until I was 16 years old. He was a Corporal in the Army. I never got to meet him. He was sent to Vietnam, via the US Army, and was killed ten days before he was to come home and meet me, on November 3, 1968. We did get to talk on the phone quite a bit, and he was really excited, as I was to meet the sibling that neither of us knew existed. I was really broken hearted over this. Bobby would write to me from Viet Nam and I still have every picture and letter he wrote to me. Before he got to Vietnam, he went to a boot camp that was less than 5 hours away from me, and my family was too poor to take me to meet him, but he promised to come see me first thing when he got back to the states. I do know that he received the Purple Heart. I went to visit the Vietnam Memorial Wall around 2000, and got to see his name on it. It was one of the most emotional things I have ever experienced! I wept very hard for the brother I would never meet. He is buried in Honolulu, Hawaii, in the Punch Bowl Cemetery. I have never even been to his grave, since I grew up and live in Georgia, but one day I do hope to visit his grave. Through an internet friend in Hawaii, I have pictures of my brother's grave.
I heard from one person that knew my brother and it was wonderful to hear from someone that actually was with my brother in Vietnam.
My brother has other family members, but I have no idea of how to contact them, they still live in Hawaii.
One other thing, before my brother went to Vietnam, he had gotten engaged, and from what I understand his girlfriend was killed in a car accident very shortly before Bobby was killed. I often wonder if that might have affected his thinking and could have caused my brother to be distracted enough for that fateful moment when he died. I pray that they are together and happy in Heaven. At least I like to think that they are together.
If you knew my brother, please let me know and tell me all about him. Thank you very much, and God bless you all.