On 14 Jul 1967 the 3rd Battalion, 8th Infantry, was directed to establish a fire support base near Plei Ya Bo in Kontum Province. They did so, and then established two company positions further to the west; Company B 's location was somewhat south of C Company's position. Company A was retained at the FSB for security and as the battalion reserve. B and C Companies conducted recon patrols in the areas around their respective positions.
The morning of 23 July started out OK but by the end of the day's battle actions which lasted 4 hours and 55 minutes, the after-action report states that 19 Americans died and 53 others were wounded in the fighting of the day. Read the complete story, with map and a full list of names here.
The Beranek family was notified of the death of their son and brother by August 4th, 1967 when the information appeared in local area newspapers. The article below says he entered the Army in 1945. That should be December1965, when he was drafted. He reported for duty in Vietnam by September 15, 1966.
On October 15, 1967, SGT Beranek was posthumously awarded the Silver Star which was presented to his mother and father.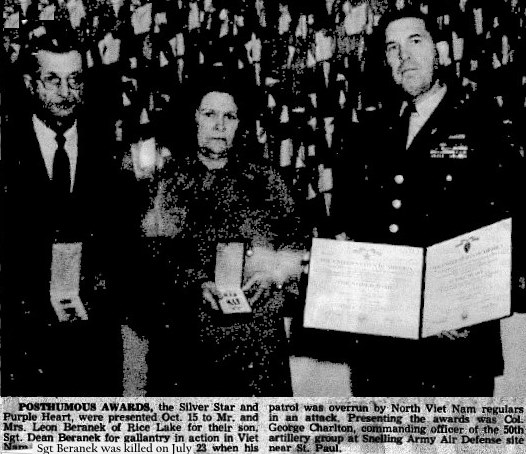 SGT Beranek was buried in Nora cemetery, Rice Lake, Wisconsin. His brother Leon L (Inky) Jr, who passed away on August 5, 1998 is also interred near him.
The Virtual Wall is trying to confirm Ella H (1916 -1998) and Leo L (1907-1982) Beranak, buried in the same cemetery near Dean, are in fact, his parents. Notice the name of Leo L to the right of the red arrow in second marker photo below.