Myron Waldo Berg
Staff Sergeant
F TROOP, 8TH CAVALRY, AMERICAL DIV
Army of the United States
15 May 1950 - 08 April 1970
Woodland Hills, California
Panel 12W Line 106
The database page for Myron Waldo Berg
26 Nov 2001
"Think where Man's glory most begins and ends,
and say my glory was I had such friends."
- William Butler Yeats -
From his brothers-in-arms,
John W. Harris and John (Doc) Anderson
jharris@voyageronline.net


---

Visit
F Troop, 8th Cavalry
14 March 2005

Before his voluntary reassignment to F Troop, 8th Cavalry, Myron Berg and I served with Company A, 123rd Aviation Battalion. I took this photo of Myron in 1969: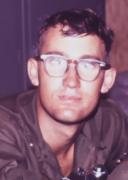 Richard T. Stuhmer
CW4, US Army (Ret)
136 Heather Drive, Ozark, AL 36360
334-774-4783
rtstuhmer@charter.net

A Note from The Virtual Wall
On 05 April 1970 an OH-6A (tail number 68-17151) from F Troop, 8th Cavalry was shot down while on a recon mission about 10 kilometers west-northwest of Tam Ky. The helo carried three crewmen:
WO1 Gary W. Norton, pilot;
SSG Myron W. Berg, Woodland Hills, CA, crew chief; and
SP4 Raymond C. Graver, Wantagh, NY, observer.
SP4 Graver was killed in the crash; WO1 Norton and SSG Berg were badly burned. Both were taken to the 91st Evacuation Hospital at Chu Lai, where SSG Berg died on 08 April. WO1 Norton survived his injuries.
The point-of-contact for this memorial is
his brothers-in-arms,
John W. Harris and John (Doc) Anderson
jharris@voyageronline.net

---
With all respect
Jim Schueckler, former CW2, US Army
Ken Davis, Commander, United States Navy (Ret)
Memorial first published on 26 Nov 2001
Last updated 04/25/2008