SSG Bergan served in World War II, Korea, and Vietnam. During WWII, he enlisted February 17, 1945 at Fort Snelling Minnesota; he was overseas with 479th Amphibious Truck Company. It was a non divisional unit that landed at Normandy in June 1944. He was with that unit from August 10, 1945 to October 16, 1946 which put him in Europe during the Occupation of Germany. He was discharged from the service on December 6, 1946. He obtained a $255 WWII Bonus for his service during that war.
During Korea, he was awarded the Purple Heart for action on June 3, 1951 when he was severly wounded in action by a hostile missle. At that time he was serving with the 1st Cavalry Division as a light weapons infantry leader. He recouperated in Japan and returned to duty on July 28, 1951.
He was survived by his wife Violet M. Bergan (1899-1984), his mother Emma Selma Louise Rusch (1900-2002) and his father Elmer Bernhart Bergan (1895-1972), two brothers Elmer A. and Roger L. and three sisters, Louise L., Merna J., and Joan M.
SSG Bergan is buried with is wife in Fort Smith National Cemetery, Fort Smith, Sebastian County, Arkansas. His parents were laid to rest at Pleasant Hill Cemetery, Lime Springs, Howard County, Iowa, which was the area that Merlin grew up and enlisted in the Army using that as home of record.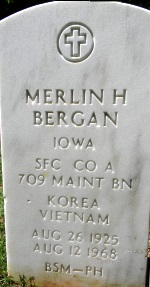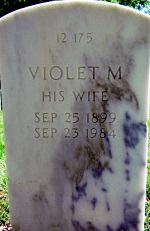 ---
On Thursday, August 22, 1968 on Page 1 of the Lime Springs Herald, Lime Springs Iowa, the following notice was posted:
Parents Notified of Vietnam Death of Son SFC Merlin Bergan, in Plane Crash
News of the first death in Vietnam of a serviceman from this community was received this week--when Mr. and Mrs. Ben Bergan of Lime Springs were notified by the War Department that their son Sgt. 1st Class Merlin H. Bergan had died August 12, 1968 in Vietnam as a result of burns received while a passenger on a military aircraft on a military mission when the aircraft crashed and burned.
Word had been received Monday from Merlin's wife, Violet, at Fort Smith. Arkansas, who was notified first; then an official Secretary of the Army delivered a telegram to the parents, Mr. and Mrs. Ben Bergan. Delay in notification, it said was due to difficulty in establishing positive identification.
Deepest sympathy was expressed by Maj. Genera] Kenneth G. Wickham. Adjutant General, USAAF. Washington. D. C. The widow will instruct the Army in return of his body and place of burial. It is likely that burial will be in a military cemetery at Fort Smith. Arkansas. Some of the details of the fatal mission, were received by Merlin's widow, who relayed them to his parents.
Sgt. 1C Merlin Bergan. who had completed twenty years in the Army, was non-com in charge of a unit of about twenty soldiers who were being flown into a Vietnam fighting area via helicopter. These helicopters generally evacuate soldiers on the return trip. Merlin was to return with the plane. These planes fly at low level and when it crashed and burned all aboard were lost.
Sgt 1C Bergan completed 20 years anny service last fall, but the Army was his life and be reenlisted for two more years and volunteered for service in Vietnam he had been since February 1st. About a month ago Merlin had written his sister Merna that he would be "seeing all of you at the first of the year", when he was to return.
Merlin was born Aug. 26, 1925, so he would have been 43 years of age this month. This was his second war participation. He was a veteran of the Korean conflict. In that war be was wounded at least three times and one time he was on the verge of death from severe illness.
His wounds were incurred as follows: was shot in the groin in a foxhole, was bayoneted in the shoulder, and received shrapnel wound in the arm. He had seen overseas service in two other countries, being in Germany twice and in Italy.
Merlin was known, as "Big Butch" in Lime Springs. He is survived by his wife Vi [Violet] of Fort Smith. Arkansas; his parents Mr. and Mrs. Ben Bergan of Lime Springs; brothers and sisters Elmer of Austin, Minn; Roger of Rochester, Minn; Lois. Mrs Otto Midthus of Cresco, Iowa; Merna, Mrs. Grecian of Ortonville, Iowa; and Joan, Mrs. Jun Berning of Cresco, Iowa.
---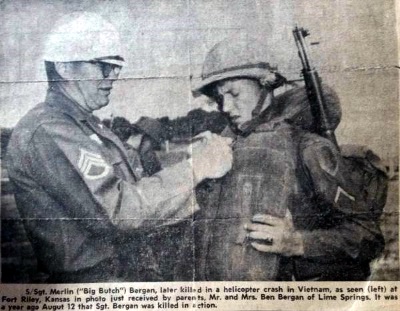 ---
- - The Virtual Wall, September 7, 2016