Ralph William Bigelow
Chief Warrant Officer
BDE HHC, 198 INF BDE
Army of the United States
15 December 1948 - 22 May 1970
Delevan, NY
Panel 10W Line 078
The database page for Ralph William Bigelow
28 Jun 2002

THEY ARE NOT DEAD THAT LIVE IN OUR HEARTS

My Dear Brother - How I thank God for the love and influence you've had in my life. It is as easy as remembering my own name to recall all the great times we've had together. I have but to think of you to conjure up your smile and bask in the warmth of the presence you still exert in my life.

TO ALL OF RALPH'S FRIENDS IN THE 176TH AHC AND 198TH LIB:
I remember like it was yesterday the letters Ralph would send home. He spoke of you fondly. I'm trying to establish an accurate time line for Ralph's tour of duty. I'm also interested in anything you can tell me about his tour or stories about him. Any jpeg or bitmap images of Ralph and his aircraft are gratefully appreciated. Thank you.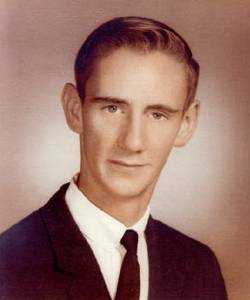 From his brother,
Ken Bigelow
Kenbigelow@aol.com
09 Dec 2002

I served as a Crew Chief with Ralph in the 176th AHC in 1969.

It's because of pilots like Ralph Bigelow that I made it home then continued to fly and made it thru Flight School myself. His family will have no problem with his memorial page. The family from the 176th will help there. Thanks go out to people from "In the shadow of the blade" for their vision that will bring all RVN Vets back to the fold and remind the nation that "They will not be forgotten".

From a fellow aviator,
Larry Shatto
larryshatto@hotmail.com
Virtual Wall Note
Pilot WO1 Ralph W. Bigelow and passenger 2LT Neil Burgess Hayes, Jr. (C Co, 1st Bn, 52nd Inf) died when their OH-6A helicopter (tail number 68-17354) was shot down.
The point-of-contact for this memorial is
his brother,
Ken Bigelow
Kenbigelow@aol.com
28 Jun 2002
---
With all respect
Ken Davis, Commander, United States Navy (Ret)
Channing Prothro, former CAP Marine
Jim Schueckler, former CW2, US Army
Last updated 05Jan2003