It all begins with an email and attached documents. It read in part: "My name is Steven Penry and this honored and loved individual is my Uncle and my mother's baby brother."
The document sent from Vietnam to Headquarters Department of the Army (HQDA), only contained the following information as to how Dannie was killed: "Individual died from wound received while on a combat operation when engaged by a hostile force in a firefight." SP4 Dannie Leon Bird was the only one killed in that firefight and The Virtual Wall database had no other details about the event in which he was killed.
Based on the document sent to HQDA, his stepmother and father were notified of their son's death and it was announced in the local papers.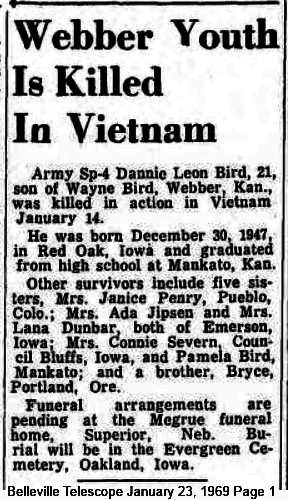 Belleville Telescope Notice of Death
Dannie Leon Bird was born on December 30th, 1947 in Red Oak, Iowa. In 1958, his father (Wayne) and two sisters (Pamela and Lana) moved to a farm southeast of Webber in Jewell County, Kansas. Dannie graduated from Mankato High School in 1967. During his high school days he was a member of the football team.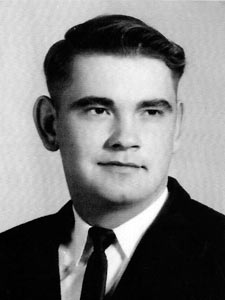 Dannie L Bird's High School Photo
---
Dannie joined the United States Army in March of 1968 and was sent for duty in Vietnam in September of that year. This photo was taken at his nephew's house in October 1968 just before he left for Vietnam.
Dannie L Bird In Uniform
---
The Christmas picture was December 1968 just 3 weeks before he was killed in action.
Dannie L Bird Christmas 1968
The family did not learn of all the details of Dannie's death until his Bronze Star was posthumously awarded at some point after his funeral. However, that information, until now, was undocumented by The Virtual Wall.
Thanks to the family, Dannie's heroic efforts during the night ambush patrol do not go unrecognized.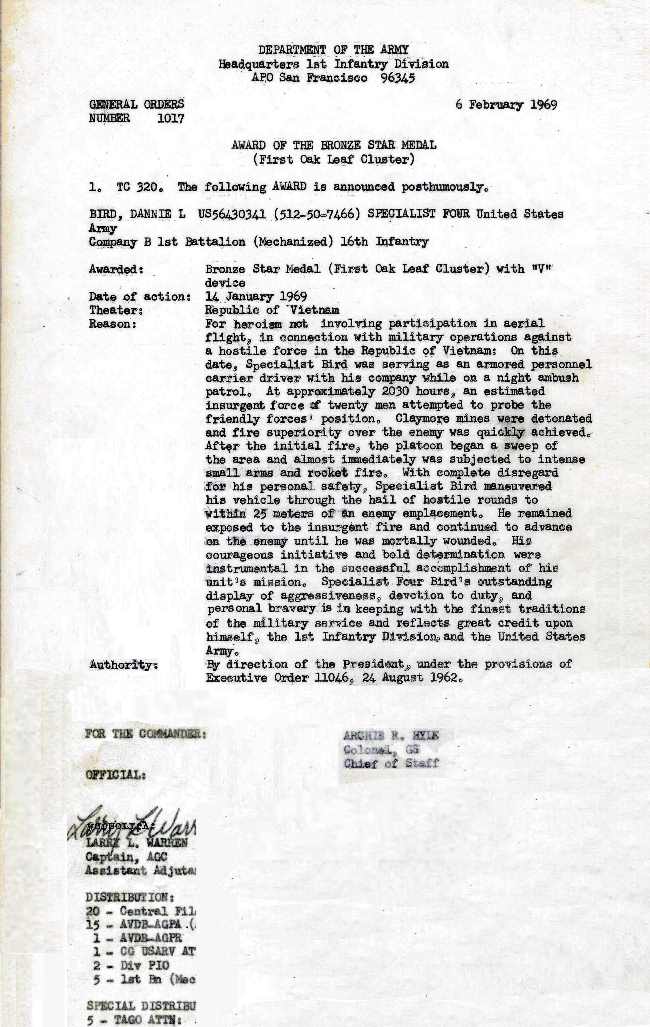 Orders for Bronze Star for Heroism (V Device)
Dannie was laid to rest in the Belknap Cemetery, Oakland (Pottawattamie County), Iowa, along with his mother. His father Wayne was laid to rest in 1992 as was his sister, Connie Severn in Gomer Cemetery, Wales Iowa.. At the time of his death, Dannie was survived by his stepmother, father, brother, and 5 sisters.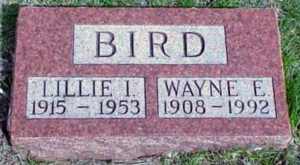 Mother, Father, and Sister's Cemetery Markers
As you can see from his original Army headstone (below) had been broken and repaired several times after being struck by the caretaker, so finally after 44 years, his headstone was replaced with one similar to his parents with his original Army headstone attached to the back of it, so it will no longer get broken. His four remaining sisters were able accomplish this just last year (2013). Dannie's brother Bryce also still survives.

Dannie's front and rear Cemetery Marker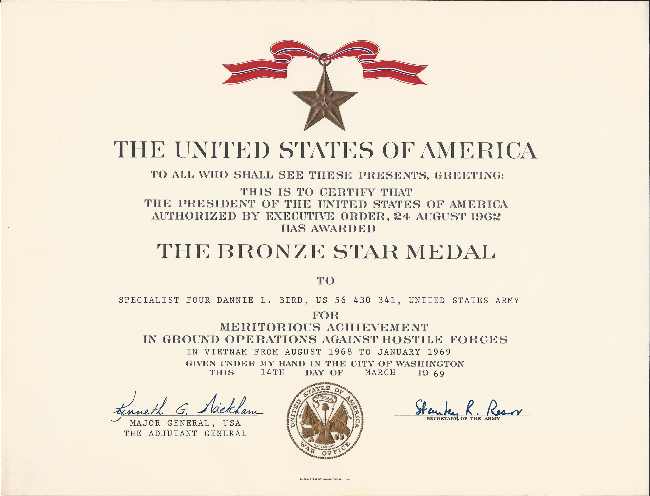 Bronze Star for Meritorious Achievement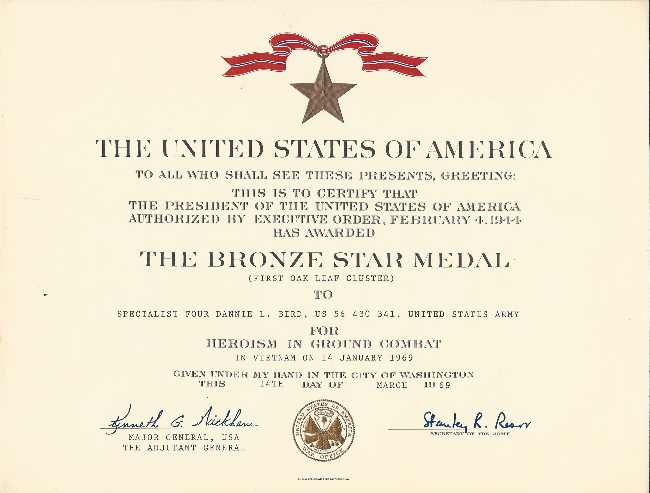 Bronze Star (1st Oak Leaf) for Heroism
- - The Virtual Wall, May 2, 2014