Charles Joseph Blanco
Sergeant
C CO, 2ND BN, 502ND INF RGT, 101 ABN DIV
Army of the United States
02 December 1940 - 20 September 1966
Philadelphia, PA
Panel 10E Line 123
The database page for Charles Joseph Blanco
25 Dec 2002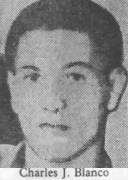 The photo and following article is taken from The Philadelphia Daily News, special supplement entitled 'SIX HUNDRED AND THIRTY,' October 26, 1987. The special supplement was issued in conjunction with the dedication of the Philadelphia Viet Nam Memorial.
Blanco was looking forward to a new career when he left the Marine Corps in 1963 after five years and enlisted in the Army's 101st Airborne Division. The 26-year-old sergeant, a squad leader, was stationed in Germany before joining Company C of the 2nd Battalion, 502nd Infantry, 173rd Airborne Brigade, 101st Airborne Division, in Viet Nam in December 1965. He died near Tuy Hoa on September 20, 1966. A former Edward Bok Vocational High School student, he was survived by his parents, a brother and a sister.
From a native Philadelphian and Marine,
Jim McIlhenney
christianamacks@comcast.net
Virtual Wall Note
The newspaper article is incorrect in stating that the 502nd Infantry was part of the 173rd Airborne Brigade and that the 173rd Airborne Brigade was part of the 101st Airborne Division.
2nd Bn, 502nd Infantry, was part of the 101st Airborne's 1st Brigade when the Division deployed to Vietnam in 1965, and remained with the 101st Airborne Division.
The "Sky Soldiers" of the 173rd Abn Bde were the Pacific "ready force" and were among the first American forces to deploy to Vietnam and among the last to be withdrawn. Throughout its time in Vietnam the 173rd Airborne was a separate brigade, rather than an assigned part of a parent Division.
The point-of-contact for this memorial is
a native Philadelphian and Viet Nam veteran,
Jim McIlhenney
christianamacks@comcast.net
26 Dec 2002
---
With all respect
Jim Schueckler, former CW2, US Army
Ken Davis, Commander, United States Navy (Ret)
Channing Prothro, former CAP Marine
Last updated 12/26/2002