Steven Carl Blossom
Sergeant
A TRP, 1ST SQDN, 1ST CAVALRY, AMERICAL DIV
Army of the United States
14 August 1943 - 05 August 1968
Detroit, Michigan
Panel 49W Line 012
The database page for Steven Carl Blossom
05 Jun 2001

Steven Carl Blossom, a friend and a brother. We wish you the best, my lost friend. You are gone but never forgotten. You paid the ultimate sacrifice that day at the stream crossing.

It was so hard to watch the episode play out and not be able to stop it from happening. Ride free, my friend, we think of you often. I want so much to contact your family to tell them that you died a hero's death and that you were not alone that fateful day. Any one who knows the family please contact me.

Till we meet again, rest in peace, brother.

Dave Berlier
917 31st Ave #4, Greeley Colorado 80634
dave938@webtv.net

10 Sep 2007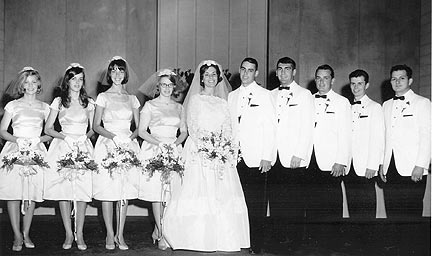 This is Steve's wedding photo. He was marrying Miss Suzanne Calleja at Berean Baptist Church in Detroit, Michigan. He was a great person.
Joanie Holmes
E-Mail will be forwarded by the
Webmaster@VirtualWall.org

A Note from The Virtual Wall
A Troop, 1/1st Cavalry, lost two men on 05 Aug 1968 - SGT Steven C. Blossom, Detroit, MI, and SGT Michael N. Hoban, Edmonds, WA.
The point-of-contact for this memorial is
Friend,
Dave Berlier
917 31st Ave #4, Greeley Colorado 80634
dave938@webtv.net

---
With all respect
Jim Schueckler, former CW2, US Army
Ken Davis, Commander, United States Navy (Ret)
Memorial first published on 5 Jun 2001
Last updated 11/29/2007