Dennis James Brault
Chief Warrant Officer
B BTRY, 2ND BN (ARA), 20TH ARTY RGT, 1 CAV DIV
Army of the United States
23 February 1948 - 26 June 1970
Worcester, MA
Panel 09W Line 093
The database page for Dennis James Brault
27 Oct 1997
Remembering a flight school classmate
Dennis and I were among a group of young men who went
to boot camp together as Co. B-4-1 at Fort Polk then Army
helicopter flight school at Fort Wolters and Fort Rucker.

A story about our flight school class

Dennis drove my 1962 Plymouth from Buffalo, New York to Fort Rucker,
Alabama for me on the weekend my wife and I were married.

He was a good man.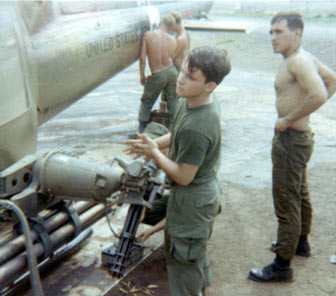 Dennis Brault and others of the 174th AHC prepare a UH-1C Huey Gunship for a mission.
His second tour was with the 20th ARA.
Photos courtesy of
David Spahr, 174th AHC
davidkathyspahr@msn.com
A memorial initiated by a friend,
Jim Schueckler
flewhuey@frontiernet.net
01 Oct 2003

My name is Nathan Moyer and I am a Lieutenant Commander in the US Navy. I never knew my cousin Dennis (my grandfather's brother's son), but whenever I am in Washington on business or pleasure, I make it a point - no, a mission - to visit his name on the Wall. I have heard that he has a VFW chapter in his name in Worchester, Massachusetts, which I hope to visit in the near future. It is funny, but I feel very close to my cousin that I never knew and I am extremely proud of both his service and ultimate sacrifice. If you know more of my cousin, please feel free to contact me. Thank you.

Nathan J. Moyer
LCDR, USN
nate_moyer51@hotmail.com
A Note from The Virtual Wall
Two men of Battery B, 2nd Battalion, 20th Aerial Rocket Artillery Regiment, died when their AH-1G Cobra gunship (tail number 68-15026) was hit by .51 caliber machinegun fire during a combat assault southwest of Firebase Snuffy in the III Corp area:
CW2 Dennis James Brault, pilot
CW2 Douglas Silvio Vergamini, copilot
As noted above, Warrant Officer Brault was with the 174th Assault Helicopter Company on his first tour and the 20th ARA on his second tour.
---
With all respect
Jim Schueckler, former CW2, US Army
Ken Davis, Commander, United States Navy (Ret)
Channing Prothro, former CAP Marine
Last updated 10/04/2003