John Alan Braxton
Private First Class
A CO, 1ST BN, 506TH INF RGT, 101 ABN DIV
Army of the United States
07 March 1949 - 26 July 1969
Philadelphia, PA
Panel 20W Line 048
The database page for John Alan Braxton
04 Jan 2003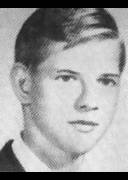 The photo and following article is taken from The Philadelphia Daily News, special supplement entitled 'SIX HUNDRED AND THIRTY,' October 26, 1987. The special supplement was issued in conjunction with the dedication of the Philadelphia Viet Nam Memorial.
A 1966 Olney High School graduate, "Jack" Braxton was a computer operator at the stock brokerage firm of Drexel Harriman Ripley Inc. on Walnut Street and night student at Temple University when he received his draft notice and entered the Army in December 1968. The 20-year-old private first class, a rifleman, was shipped to Viet Nam in May 1969 and assigned to Company A of the 1st Battalion, 506th Infantry. He died in the A Shau Valley, Thua Thien Province, on July 26, 1969. Survivors included his mother, two brothers and two sisters.
From a native Philadelphian and Marine,
Jim McIlhenney
christianamacks@comcast.net
28 Nov 2003

Dear John,

It has been a long time since we last saw each other back in July of 1968. I have visited VN many times over the years and always make a point to write in the "visitor comment books" at the different war sites around the country that you and Aleshire were part of Olney El 1962 and Olney High 1966. I would really hope that you would not mind my remembering you in this way. Whenever I visit Ray and Judy (they got married in 1970), I always tell them that at the end of every day when I am in VN, I drink one beer and think about how I would like to be able to buy you a beer. I will never forget my childhood friend.

Your friend,

Bill Holden
223 Levick Street, Philadelphia PA 19111
wholden@phila.k12.pa.us
A Note from The Virtual Wall
In his addendum, Mr. Holden refers to SP4 Kenneth Edward Aleshire of C Company, 4/9th Infantry, who received a posthumous Silver Star for the actions which led to his death on 27 February 1968.
The point-of-contact for this memorial is
a native Philadelphian & Viet Nam Veteran,
Jim McIlhenney
christianamacks@comcast.net
5 Jan 2003
---
With all respect
Jim Schueckler, former CW2, US Army
Ken Davis, Commander, United States Navy (Ret)
Channing Prothro, former CAP Marine
Last updated 11/30/2003