Michael Hugh Breeding
First Lieutenant
VMFA-122, MAG-13, 1ST MAW
United States Marine Corps
19 March 1945 - 12 February 1970
Blue Rapids, KS
Panel 14W Line 130
The database page for Michael Hugh Breeding
Veterans' Day 2003

Michael Breeding
was a wonderful man
from a small town in Kansas.

He is not forgotten.
A Note from The Virtual Wall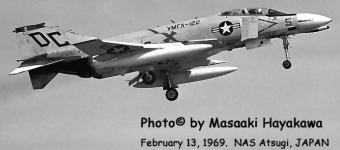 On 12 February 1970 an F-4B (BuNo 151454) of Marine Fighter Attack Squadron 122, based at Chu Lai, failed to return from a mission near Quang Tri. The MAG-13 Command Chronology for February 1970 contains the following entry:
"On the 12th of February, VMFA-122 was flying a section TPQ with Quang Tri ASRAT. When the second aircraft attempted to get into position, it descended into an overcast and contact was lost. The pilot and his radar intercept officer have been declared MIA."
Oddly, the pilot's casualty record is coded as an operational accident, while the radar intercept officer's record is coded as a combat loss. In any case, the bodies of the two crewmen were not recovered:
1st Lt Michael H. Breeding, pilot
1st Lt Robert S. Bradshaw, radar intercept officer
---

The photo of BuNo 151454 was taken at the Naval Air Station Atsugi, Japan, before the squadron returned to Chu Lai in September 1969.
The point-of-contact for this memorial is
one who remembers,
Barbara Malone
E-Mail may be forwarded via the
Webmaster@VirtualWall.org
13 Nov 2003
---
With all respect
Jim Schueckler, former CW2, US Army
Ken Davis, Commander, United States Navy (Ret)
Channing Prothro, former CAP Marine
Last updated 11/13/2003