Robert Raymond Brett
Lieutenant
H&S CO, 2ND BN, 26TH MARINES, 3RD MARDIV
United States Navy
03 January 1936 - 22 February 1968
Washington, District of Columbia
Panel 40E Line 058
The database page for Robert Raymond Brett
04 Jan 2003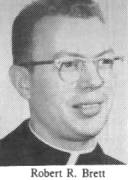 The photo and following article is taken from The Philadelphia Daily News, special supplement entitled 'SIX HUNDRED AND THIRTY,' October 26, 1987. The special supplement was issued in conjunction with the dedication of the Philadelphia Viet Nam Memorial.
The Roman Catholic priest grew up on S. 29th Street in South Philadelphia, graduating from nearby St. Gabriel's School and later Catholic University in Washington DC. He was ordained in the Marist order in 1962 and enlisted in the Navy in 1967 while teaching at Immaculata Seminary in Lafayette, LA. The Navy lieutenant was killed on February 2, 1968, in Khe Sanh, Quang Tri Province, Viet Nam, at the height of the Tet offensive, when a Viet Cong mortar round hit a bunker in which he was celebrating Mass for members of the 3rd Marine Division. He was 32 years old. Brett "was neither a hawk or a dove, but he wanted to be where the men needed him most, so he requested overseas combat duty in Viet Nam," recalled a family member. Survivors included two sisters.
SEMPER FIDELIS, FATHER!
LT Robert R. Brett, USN, is claimed by Philadelphia as one of its fallen sons. LT Brett's name appears on the Philadelphia Viet Nam Memorial.
From a native Philadelphian and Marine,
Jim McIlhenney
christianamacks@comcast.net
28 Sep 2006

I was a seminarian with Bob Brett at Saint Mary's Manor in Penndel, Pennsylvania in the 1950's. I looked at his photograph today and still remember him from those days. I salute his dedication and courage and his sacrifice, but still feel sad over his early death.

From a former seminary school-mate,
Paul Visokay
pavelcik@houston.rr.com

01 May 2007

I was a seminarian at Saint Mary's Manor in Penndel, Pennsylvania. Bob Brett was two years ahead of me. I admired him for his courage and self-sacrifice.

Robert P. Supina
packardman@hal-pc.org

A Note from The Virtual Wall
Chaplain Robert Brett and his assistant, Marine PFC Alexander S. Chin, died together during a rocket attack on the Marine base at Khe Sanh. Their bodies were returned to the United States for burial, LT Brett in Penndel, Pennsylvania, and PFC Chin in Princess Anne, Maryland.
In late 1998, LT Brett's family arranged to have him reburied on Chaplain's Hill in Arlington National Cemetery - but they felt that PFC Chin, who had guarded and assisted LT Brett in life, should be afforded the opportunity to rest with him in death. A nephew, Edward Rouse, tracked down PFC Chin's family, who concurred. In the spring of 1999, Private First Class Alexander Chin joined Chaplain Brett at Arlington.
There is a Washington Post article on PFC Chin's memorial, entitled
"A Reunion at Arlington"
---
With all respect
Jim Schueckler, former CW2, US Army
Ken Davis, Commander, United States Navy (Ret)
Memorial first published on 5 Jan 2003
Last updated 10/11/2007