Richard Dennis Brewer
First Lieutenant
A TRP, 1ST SQDN, 9TH CAV RGT, 1 CAV DIV
Army of the United States
11 November 1944 - 02 May 1970
Big Spring, Texas
Panel 11W Line 083
The database page for Richard Dennis Brewer
26 Sep 2004

1Lt. Richard Brewer was born in Lubbock, Texas but was raised in Big Spring, Texas. He was a 1963 graduate of Big Spring High School. He entered the Army in 1964 and was an elisted man for his first enlistment. He re-enlisted for OCS and for Rotary Wing pilot training. He completed OCS and then Rotary Wing Training at Fort Wolters, Texas and Fort Rucker, Alabama. He also trained on the OH-6A known as the LOH (Light Observation Helicopter).

He was killed in Cambodia while on a low level reconnaissance mission supporting ground troops rooting out the NVA from their sanctuaries. His aircraft was hit by ground fire, crashed, and burned, also killing the observer, SSG George D. Slye. He is remembered by his community, the Big Spring Vietnam Memorial and by the Permian Basin Vietnam Memorial located at the Midland, Texas International Airport.
A Note from The Virtual Wall
Three men from A Troop, 1st of the 9th Cavalry, died when OH-6A tail number 68-17214 was shot down on 02 May 1970:
1LT Richard D. Brewer, Big Spring, TX, pilot;
SSG George D. Slye, Tacoma, WA, observer; and
SGT Frank R. Corona, Reedley, CA, gunner.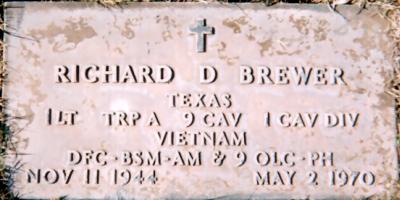 Lt. Brewer is buried in Trinity Memorial Gardens Cemetery in Big Spring, Texas.
The point-of-contact for this memorial is
a PBVVM representative,
Billy M. Brown
4015 Melody Lane, Odessa, Texas 79762
bmbrown@grandecom.net
26 Sep 2004
---
With all respect
Jim Schueckler, former CW2, US Army
Ken Davis, Commander, United States Navy (Ret)
Last updated 12/31/2004