Petty Officer Brown was on the mission described below when he was severely wounded by an exploding wooden box believed to be a booby trapped land mine. His unit was operating in the Kien Thanh District of the Kien Giang Province when he was killed in action.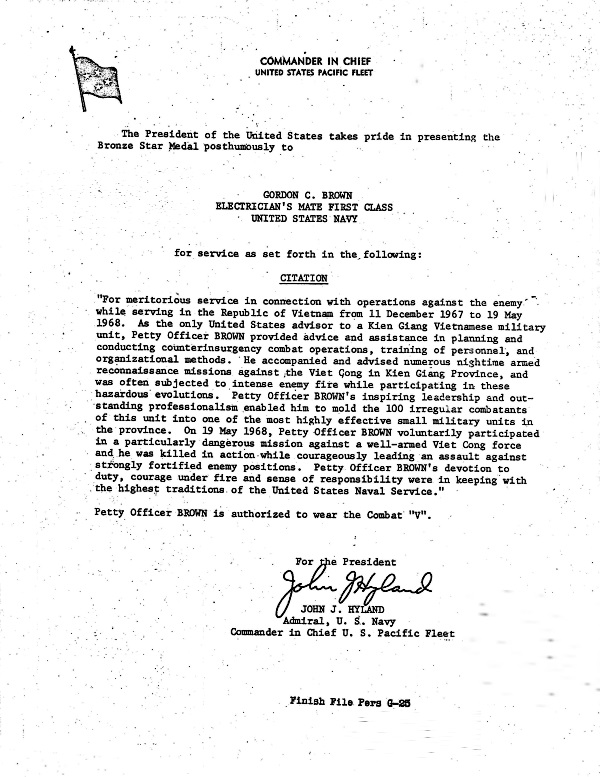 In addition to the Bronze Star with Combat "V" displayed above, EM1 Brown was also awarded the Navy Achievement Medal.
Jason P. McKinley, Gordon Brown's nephew submitted a request to display the medal based on documentation from Petty Officer Brown's Official Military Personnel Folder (OMPF). His mother is Gordon's only sibling. The Virtual Wall displays it here as an exception to policy.
The local area papers printed his notice of death during the week of May 24, 1968 which read something similar to:
Keithsburg Man Killed In Vietnam
KEITHSBURG, Ill. EM1 Gordon Curtis Brown, 35, formerly of Keithsburg, was killed by a land mine explosion in Vietnam May 19. Mr. and Mrs. Clair N. Brown, Keithsburg, were notified of their son's death by a telegram from Vice Admiral C.K. Duncan, Chief of Naval Personnel, Washington; D.C.
The telegram said the sailor was investigating a wooden box, believed to have been a land mine, when the explosion occurred. . He was stationed in the Kien Thanh District, Kein Giang Province, in South Vietnam.
Brown was scheduled to complete his tour of duty in Vietnam in a week and within two years would have completed 20 years of Navy service [read his full service history here]. His wife and three children live in Coronado, Calif. Funeral services are scheduled May 30 in Long Branch, N.J., where his wife's parents live.
Petty Officer Brown was survived by his wife, Carol Ann Brown, Campbell Street, Long Branch, New Jersey along with 2 sons, Gordon Chris, Richard Cirtise, and a daughter, Simmone Brown. In addition, he was survived by his parents, Fern Lucille and Clair Norman Brown, Keithsburg, Illinois and one sister. He is buried in Beverly National Cemetery, New Jersey.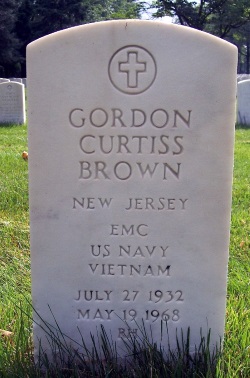 ---
- - The Virtual Wall, October 29, 2014