AMERICAN FORCES PRESS SERVICE
PRESS RELEASES
Vietnam Vet Creating Gold Star Mothers Monument
By Rudi Williams
American Forces Press Service
WASHINGTON, Oct. 3, 2003 - When Andrew L. Chernak was preparing to sculpt a statue honoring the American Gold Star Mothers, he needed a face showing the extreme grief and pain of a mother who lost a child during wartime.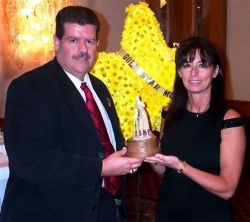 Andrew L. Chernak and his wife, Terria Chernak, who modeled for the Gold Star Mothers Monument statue, hold a replica of the sculptor's creation that's slated to be dedicated in the Putnam Veterans Memorial Park in Kent, N.Y., on Gold Star Mothers Day 2004, the last Sunday of September. Photo by Rudi Williams.

Chernak, who specializes in pewter sculpture, decided his wife, Terria, fit the bill perfectly. That's because she suffered the pain of the death of a beloved child - the anguish, despair, devastation and more - when her beloved 13-year-old daughter was killed in a house fire about six years ago.

Terria agreed to model for him, and found a pattern for a World War II-style dress, which she made in less than two days, Chernak noted.

Chernak is carving a life-size, 5-foot-7-inch bronze image of an unsteady woman holding a crumpled telegram. The statue represents a mother who just received news of her son's death during World War II. The mother will stand atop a shiny black-granite pedestal that sits on a gold star with branches at the end of each point. A "fountain of tears" will sit in front of the bronze statue.

The American Gold Star Mothers statue is scheduled to be dedicated at Putnam County (N.Y.) Veterans Memorial Park on the 2004 Gold Star Mothers Day -- the last Sunday of September, which falls on the 26th in 2004. The park is in the town of Kent, about 60 miles north of New York City in the heart of the picturesque Hudson Valley. The statue will stand near decommissioned military hardware: an M60A3 Army tank and a Cobra attack helicopter.

On June 4, 1928, a group of 25 mothers met in the District of Columbia to plan a national organization to be known as American Gold Star Mothers Inc. The organization was incorporated under the laws of the district on Jan. 5, 1929, to honor mothers of those killed while in the armed forces, to promote patriotism and to assist veterans. A gold star symbolizes the supreme sacrifice made while serving in the armed forces.

"The hardest part of this project was to have a face showing extreme grief and pain," Chernak said, as he held a replica of the statue at the recent Gold Star Mothers annual banquet at the Washington Marriott Hotel. "As my wife lost her daughter when her daughter was 13, she was able to give me that look of true grief."

His wife agreed the grief was genuine. "When you look at that mother's face in the statue it's true grief, because I had to go there," Terria said. "I had to go to that night to remember the sorrow and the grief and pull it out. When you look at that statue, that's a mother's grief. That's loss!

"Tragically, my daughter was killed with two other children," Terria noted. "She was my third child. That never goes away -- just never goes away."

Terria didn't know anything about Gold Star Mothers until she met the organization's then-president, Dorothy Oxendine, last March when the proposal for the statue was being negotiated.

"When I understood what Gold Star Mothers were all about, I was overcome with her peace and her quietness," Terria said. "Yet, when a mother loses a child, whether they're an infant, a teenager, or young man, there's a loss you see in the mother's eyes.

"I saw something in her eyes, yet she's carrying on for other people," she said. "And there's a peace that goes with that. You can see it and feel it in these Gold Star Mothers."

Terria said because of the war in Iraq and the global war on terrorism, Gold Star Mothers should be recognized even more today. "What they're doing is wonderful; they're helping others -- caring for others," she noted.

Terria told the story of how the plan to build an American Gold Star Mothers Memorial was conceived. She said Fred Waterman, one of her husband's Army buddies from Vietnam, was driving around one day and saw something that made him exclaim, "What the hell is that?"

"He saw a helicopter suspended in midair," Terria said.

Curiosity caused Waterman to drive to the Putnam Veterans Memorial Park to find out why. As he got out of his car, he saw a plaque that read, "In memory and dedicated to Howard Bruckner," Chernak said.

"Fred said he'd witnessed Howard's death in Vietnam," she said. "He said he carried Howard's body for two days in the jungle so it would be safe. Fred looked up the park's creator and found it to be Pete Allegretta, chairman of the Putnam County Joint Veterans Council."

Allegretta invited Fred to a men's breakfast where Allegretta found out that Waterman was with his boyhood friend (Bruckner) when he was killed, Chernak said.

Waterman suggested having a statue in the park, and Allegretta agreed, but said he didn't know how to arrange it. So Waterman put him in touch with his Army buddy, sculptor Andrew Chernak in Springfield, Pa.

Waterman and Chernak were talking one day and discovered that Chernak was Bruckner's replacement in Vietnam. The men were assigned to the Army's 199th Light Infantry Brigade. Andrew went to Vietnam as a private first class and came home as a sergeant wearing the Bronze Star Medal, two Purple Hearts and the Combat Infantryman's Badge. He was wounded twice by shrapnel in March 1970.

"So Fred carried the body of Howard Bruckner, and Andrew became Howard's replacement," Terria noted. "Andrew's Vietnam jungle uniform is on display at West Point (the U.S. Military Academy) in the Gallery of the American Soldier. When he dressed the dummy, Andrew graffitied the helmet as the men did in Vietnam. On one side of the helmet is Howard's nickname -- 'Windy' -- and the unit, Company C, 4th Battalion, 12th Infantry Regiment, 199th Light Infantry Brigade.

"Windy said (that) when he got out of the Army, he was going to go to West Point," Terria said. "So now his name is at West Point forever."

Terria said it's amazing how this all ties in together and with her daughter's death. "The grief shown in the statue is because of my daughter's death," she said. "It's amazing how God pulls people together."

Terria said more than 30 years ago, an 18-year-old soldier was killed in Vietnam, and her husband, who also was 18, replaced the man who was killed. "Now, 30-some years from that time, the man who was killed is being memorialized by the man who replaced him," she said. "He's being memorialized through the Gold Star Mothers."

Allegretta, who was then chairman of the Putnam County Joint Veterans Council, said, "This all ties in with my buddy, Sgt. Howard Bruckner, who was killed in Vietnam. In 1997, we built a veterans memorial in our park. As years passed, I added on an M60A3 tank that the Army donated. Last June, we dedicated a Cobra helicopter gunship that had been shot down twice in Vietnam. It's a real piece of history."

Allegretta said when he put the tank in, he wanted to remember two of his oldest friends from the old neighborhood; one was a Marine, and one was a soldier. He painted the tank olive drab and stenciled "Marines" on one side and "Army" on the other side.

"On the Army side I have by buddy Bruckner's name, and on the other side I have another buddy's name who was a Marine killed in Vietnam - Lance Cpl. Walter Joyce," Allegretta said.

He found out about Bruckner's death the day he graduated from Marine boot camp at Parris Island, S.C., in 1969, he said. Several years passed before he found out how his friend was killed.

"His sister and his mother -- a Gold Star Mother -- were surfing the Internet one day and saw the virtual (Vietnam Veterans Memorial) wall," Allegretta said. "His sister typed in a message asking if anybody knew her brother, Howie."

Later, Fred Waterman called her and told her he was with her brother the day he was killed. "It was his first enemy action, and six guys (were) killed that day," he said.

It turns out that Waterman lives about 20 miles from Allegretta's house.

"The day I set the helicopter, which is a year ago this month, he (Waterman) showed up at the park and it was very emotional," said Allegretta, who was a sergeant machine gunner with the Marine Corps Reserve's Fox Company, 2nd Battalion, 25th Marines Regiment in New York during the Vietnam War.

Noting that the veterans' council had been trying to get a Gold Star Mothers monument, Allegretta said Waterman told him about a close combat buddy who is a sculptor. "When Fred called him, this thing just took off," he said.

Allegretta pointed out that Chernak is a noted artist who has work at Arlington National Cemetery, the U.S. Military Academy Museum at West Point, N.Y., and the U.S. Mint. Special presentations of Chernak's work are in the collections of former President Ronald Reagan and the late president of France, Francois Mitterrand, among other places.

Allegretta said people are asking, "Why wasn't this ever done before? How come everyone forgot about the Gold Star Mothers?"

"It's getting so big I can't handle it," he said. "There might be a half dozen monuments around the country, but (each is) just a stone with a star on it commemorating Gold Star Mothers."

His goal, he said, is to promote awareness and educate people about the Gold Star Mothers, because, he said, "It's terrible that they forget these mothers."

He said with Operation Iraqi Freedom broke out, a woman noticed that former Gold Star Mothers president Dorothy Oxendine has a New York license plate that reads "Gold Star Mother #3." The woman told Oxendine that her son was in the Persian Gulf with the Marines and asked, 'How do I get one of those license plates?"

"They don't know!" Allegretta exclaimed. "Dorothy said, 'You don't want this plate.'"

The woman said, "I don't understand," and Oxendine had to explain that Gold Star Mothers are women who lost a child in the armed forces.

"We want to educate the people of this country," said Allegretta, a union operating engineer who runs big cranes. "We don't want them to forget the sacrifices the mothers made. Nobody bears the pain that a mother does."


---

* Lance Corporal Walter A. Joyce was killed in action on 22 Feb 1969 while serving with Delta Co, 1/9 Marines. The battalion lost 15 men in an action at La Hang in the northern approaches to the A Shau Valley. - The Virtual Wall