30 Jan 2004

My dear friend and brother in arms,
Well buddy, it has been 33 years now since you, me, and Larry Kuenzer stayed up 3 days and nights partying. We had no idea this would be the last time we would see you. I'll never forget when you told me that you were going back over for another tour. I begged you not to go, but I fully understand why you went back. It still haunts me to know you fought and died on the very same hill that I took you on, when you first got to Nam. I still can't accept what took place that night. Maybe if we had been together things would have been different. All I know is that I wish to God I was with you guys. I have lived with the thought of "What If" ever since that fateful night. I guess the Good Lord just had other plans for us that were left behind, plans that I don't quite understand. But I suppose it is not for us to question.
Well I guess you know that me, Andrea, Narcia, and Mom, are thicker than fleas on a dog's back. We go to the Wall every Memorial Day and visit you guys. It's overwhelming to see all the names, the people, and the emotions. It took them a while, but you now have the greatest memorial in the land. We are so very proud of you. I just came back from 3rd Recon's Reunion in D.C. and as always they held a beautiful tribute to all the members of your team,"Flight Time", and all the other members of 3rd Recon Bn that were lost during the war. We love and miss each and every one of you.
I miss you dearly, brother. Semper Fi.
SHORTROUND
Steve Shircliff (aka "Shortround")
4252 Hwy 11, Lanesville, In. 47136
shortround68@msn.com


---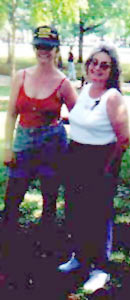 Billy's sisters Andrea and Narcia