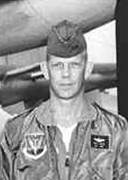 29 Apr 2003
I Considered Him My Brother --
I Know He was my Friend
by Margaret Ann Burns Hooser
(first cousin to Johnny Burns)

Clear memories exist of how Daddy stood so tall,
Mama's not around to show her photos on the wall,
And Jean has gone on too, when our Maker came to call;
The Lord was with me then as I laid each one to rest,
Heavy burden true, but this trial each one must test;
One goodbye was awkward and unlike all the rest,
When we said "Goodbye" to Johnny we sacrificed our best.
He heard a different call which carried him away,
And made him pay a price that very few have paid;
Closure comes so slow, not the like ones before,
The How, the Why, the When, we simply have to store;
His last days here we think were not so happy ones,
So I will think of him, when he was so much fun.
Goodbye, Johnny, from "Maggie"
(Margaret A. Burns Hooser)


---




Left to right, cousin Charles Burns; cousin Margaret Ann Burns (my mother); and Johnny Burns.
Charles' and Johnny's photos are from the Grove High School (Paris, Tenn) 1950 annual.
Johnny, the whole Burns family misses you.
---