James Norman Byers
Staff Sergeant
B C, 4TH BN, 31ST INF RGT, 196 INF BDE
Army of the United States
02 March 1942 - 20 January 1967
Westminster, MD
Panel 14E Line 055
The database page for James Norman Byers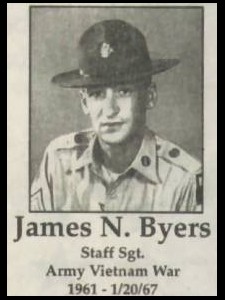 Staff Sergeant James Norman Byers, 24, was killed on January 20, 1967 by Viet Cong sniper fire while he was on patrol. SGT Byers was born in Union Mills, MD, and was the son of Norman and Sarah Shorb Byers of Westminster. He attended North Carroll High School and was a member of St. Mary's United Church of Christ, Silver Run.
He had served 5 1/2 years in the Army and was stationed at Tay Ninh, South Vietnam.
Byers, an Army career man, had been in Vietnam for more than 5 months. Prior to that, he had served two years in Germany and two years at Fort Dix, NJ, where he had been a Drill Sergeant. He had received the Army Commendation Medal.
Taken from the CARROLL COUNTY TIMES
Memorial Day edition 1989
The point-of-contact for this memorial is
a fellow Carroll County native.
lemmer2@msn.com
3 May 2001
---
With all respect
Jim Schueckler, former CW2, US Army
Ken Davis, Commander, United States Navy (Ret)
Channing Prothro, former CAP Marine
Last updated 01/17/2004