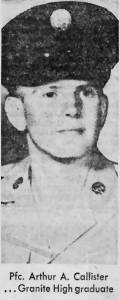 Two Salt Lake Soldiers Die in Vietnam Action
Callister, who had previously been reported missing in action, died Feb. 3 of burns received in combat. He was a son of Mr. and Mrs. Arthur A. Callister, 2851 W 3835 South.
A member of the 25th Infantry Division, Callister had received a Bronze Star for heroism.
Callister entered the Army June 19, 1968, and received basic training at Fort Knox, Ky., and Fort Worth, Tex. He had been in Vietnam less than two months.
Before entering the Army, Callister was employed by the A. A. Callister Co. He was a Granite High School graduate and a priest in the Granger 17th Ward, Church of Jesus Christ of Latter-day Saints.
He was born Aug. 9, 1948, in Salt Lake City, and is survived by his parents; two brothers and two sisters, Edward, David, Mary Ann and Linda, all Granger; grandparents, Mr. and Mrs. Arthur A. Callister and H. Alvah Fitzgerald, all Provo.
Funeral services will be Monday noon in the Granger 17th Ward chapel, 2850 W. 3835 South. Friends may call at 4330 S. Redwood Rd. Sunday from 6-8 p.m. and Monday at the church one hour before services. Burial will be in the Salt Lake City Cemetery.
From the DESERET NEWS
Saturday, February 15, 1969, pg 4B