In the local area papers for December 8th or 9th, 1966, the announcement was very brief. It read only like: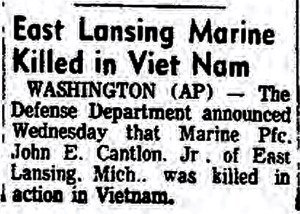 John was born in Beeville, Texas. He went into the Army at Detroit Michigan on 1 March 1966, took his basic and AIT and it is unknown when he started his tour of Vietnam, but with training and leave, it was possible he arrived in Vietnam in July 1966. A short few months later, he was the only one killed from sniper fire during a patrol 5 kilometers west of Dien Ban.
Surviving him were his parents, Carolyne I and John Edward Cantlon Sr, East Lansing, Michigan. He was buried in Evergreen Cemetery, Lansing Michigan.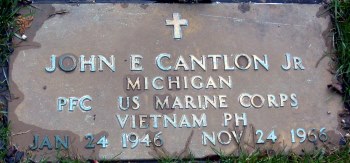 ---
- - The Virtual Wall, October 9, 2014