Robert J Carmody
Staff Sergeant
D TROOP, 17TH CAVALRY, 199 INF BDE
Army of the United States
04 September 1938 - 27 October 1967
New York, New York
Panel 28E Line 079
The database page for Robert J Carmody
02 Nov 2006

A person with a lifetime of personal achievment. 1964 Olympic Bronze medalist in boxing who held a record 4 all-Army titles in boxing and 3 inter-service titles as well a Bronze Medal from the Pan-AM games and a CISM Gold Medal. He coached the 101st Airborne Division boxing team as well as AAU, Army Boxing Team, and the Iraqi Olympic Boxing Team. An 8 page ESPN.com article in May 2006 did a great biography.

Family and friends have never forgotten.

From his son,
Robert Carmody Jr.
10850 North McCarran Blvd, Reno, Nv 115-196
rcarmod@yahoo.com

A Note from The Virtual Wall
The May 2006 article mentioned above can be found on ESPN.com. It contains the following paragraph:
"On Oct. 27, 1967, several weeks after arriving in Vietnam, Sgt. Robert John Carmody was on patrol with five other soldiers near Saigon. They were ambushed by a group of Vietcong and during an 11-hour firefight without backup, five of the six men were killed. Carmody was one of them."
The five men from D Troop, 17th Cavalry who died in the fight were
SSG Robert J. Carmody, New York, NY (Bronze Star "V");
SSG Robert A. Williams, Ashland, NJ;
SGT Stephen P. Jones, Terre Haute, IN;
CPL Linden B. Dixon, Berwyn Heights, MD; and
CPL Jon P. Turk, Melrose Park, IL.
---

The photos on this page were taken from the ESPN site. The one at the top is credited to Howard Brynildsen, while the two below were provided by the Carmody family.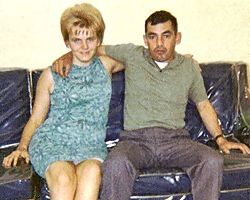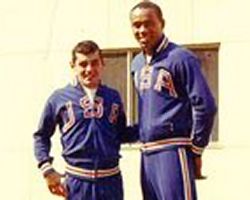 Robert and Merry Sykes Carmody.
Robert Carmody and Joe Frazier, 1964 Summer Olympics
The point-of-contact for this memorial is
his son,
Robert Carmody Jr.
10850 North Mccarran Blvd, Reno, Nv 115-196
rcarmod@yahoo.com

---
With all respect
Jim Schueckler, former CW2, US Army
Ken Davis, Commander, United States Navy (Ret)
Memorial first published on 02 Nov 2006
Last updated 11/10/2006