Walter John Carney
Specialist Four
B CO, 52ND SIG BN, 2ND SIG GRP, 1 SIG BDE
Army of the United States
20 December 1948 - 13 June 1969
New York, New York
Panel 22W Line 038
The database page for Walter John Carney
24 Jul 2005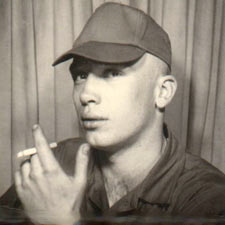 Hi Dad,
I've FINALLY added a page to the Memorial. I wish I had done so sooner.
Just a short note to say "I Love You."
Florence
Proud Daughter
ftorres@prismb2b.com

02 May 2006

Walter was in my graduating class from the signal school in Fort Monmouth. In fact, we were best of friends. We were teammates in the pall bearer and firing squad details.

News of his death sent shockwaves through Fort Monmouth. I was still stationed there at the time of his death along with Warren Bey, another fellow graduate. If I remember correctly, we both attended Walter's funeral.

To his family, I send my deepest sympathies even after all these years.

May his soul and the souls of all the faithfully departed rest in peace.

Sincerely,
Paul G. "Jerry" Scannell
jerryscannell@cox.net

A Note from The Virtual Wall
Two men from B Company, 52nd Signal Battalion, were killed in an accident on 13 June 1969: SP4 Walter J. Carney and SP4 Rudolph Parker of Houma, Louisiana.
Ten days later, on 23 June, a third man, PVT Kenneth T. Anderson of San Diego, CA, died of injuries received in an accident on 13 June. Although it seems most likely, The Virtual Wall has not been able to determine with certainty if he was injured in the same incident that killed SP4 Parker and SP4 Carney.
---
With all respect
Jim Schueckler, former CW2, US Army
Ken Davis, Commander, United States Navy (Ret)
Memorial first published on 24 Jul 2005
Last updated 05/15/2006