A Note from The Virtual Wall
Kilo Company, 3/7 Marines, lost 19 men on 28 July 1968 when they were engaged by an enemy force while on a sweep through an open rice paddy. The ferocity of the ensuing fight is evidenced by the Medal of Honor and two Silver Stars awarded to men who died:
2ndLt William S. Smoyer, Princeton, NJ
SSgt David L. Brooks, Limona, FL
HM3 Wayne M. Caron, Middleboro, MA (Medal of Honor)
Cpl Edward J. Downs, Washington, DC (Silver Star)
Cpl Philip L. Gosselin, Topeka, KS
Cpl Daniel E. Lloyd, Astoria, OR
Cpl Anthony C. Pino, Elmsford, NY
Cpl John R. Serrano, New York, NY (Silver Star)
LCpl George S. Johnson, West Covina, CA
LCpl Douglas M. Kelly, Dickinson, ND
LCpl Robert C. Lee, Shreveport, LA
LCpl James C. Markel, Coatesville, PA
LCpl Carl R. Miller, Elk City, OK
LCpl Raphael J. Rendon, Washburn, IA
LCpl Richard E. Urban, Stratford, CT
Pfc John M. Lancaster, Louisville, KY
Pvt John E. Rice, Fort Smith, AR
Pvt John J. Till, Pasco, WA
As noted above, the Navy named a destroyer after Petty Officer Caron. The USS CARON (DD 970) was commissioned on 01 Oct 1977 and served until she was decommissioned 24 years later, on 15 Oct 2001.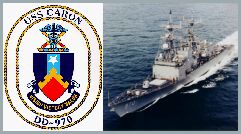 In 1994, the clinic at Marine Corps Base, Camp Lejeune, North Carolina was named for HM3 Caron.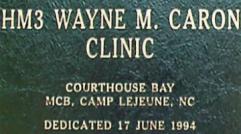 ---


"You guys are the Marine's doctors -
There's none better in the business than a Navy Corpsman ..."
-- Lieutenant General "Chesty" Puller --

Visit John Dennison's
Medics on the Wall
memorial which honors the
Army Medics and Navy Corpsmen who died in Vietnam.