Robert O Chambers
Specialist Four
A CO, 3RD BN, 187TH INFANTRY, 101 ABN DIV
Army of the United States
09 September 1949 - 06 September 1968
Camp Hill, Alabama
Panel 45W Line 048
The database page for Robert O Chambers
12 Jan 2005
REMEMBERED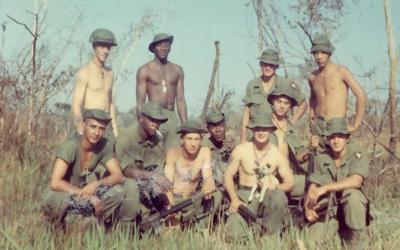 This picture of Robert O. Chambers was sent to me by a guy who served with Bobby. Bobby is in the front row kneeling or squating third from the left, he has the rifle in his right hand.
From a researcher,
Mark Sullivan
msullivan364@hotmail.com

01 Jan 2006

My dear Great Uncle Buddy,

Although we never met each other, I feel close to you. I wish so much that you hadn't been taken away from us on that day!! I've had the opportunity to see a uniform, hat, and all of the medals you earned for serving our country. I have heard stories about you from Barbara, Shirley, Sandra, and very rarely my precious Nanny! If anyone has any information about my uncle, I would greatly appreciate it.

I love you Uncle Buddy!!!

From his great niece,
Amanda Reece Jones
jmjabr@bellsouth.net

07 Aug 2007

My brother was only a kid when he left home to go to war where his life was taken so quickly from him. He was such a special person, he was the sweetest, kindest person, so humble. He had not a clue what was ahead of him in his life. I remember the night he left so clearly. How I wish I could go back to that time. I love you Buddy, our mother never recovered from the loss of her only son. Now that mom is gone also, and my son Brantt, please take care of him in heaven with you until I can get there. I know you, mom and Brantt are in a better place!

Just remember you are loved and missed each day you have been gone!

Your sister,
Barbara
sellersb@dot.state.al.us

A Note from The Virtual Wall
The 3rd Battalion, 187th Infantry, deployed to Vietnam in 1967. There, in battles from the A Shau Valley to the Iron Triangle, the Rakkasans added nine decorations and twelve battle streamers to the two decorations and three battle streamers of WWII and the four decorations and six battle streamers of Korea.
On 5-6 September 1968, seven Companies of the 101st Airborne Division conducted a cordon and search operation directed at locating and destroying the 7th VC Local Force Battalion. During the night of 6 September 1968 the 7th VC broke through the Alpha 3/187 position. Although Alpha 3/187 held its position against the much larger enemy force, SP4 Robert Chambers and 31 other American soldiers died in fierce hand-to-hand combat.
---
With all respect
Jim Schueckler, former CW2, US Army
Ken Davis, Commander, United States Navy (Ret)
Memorial first published on 16 Jan 2005
Last updated 03/15/2008