Lorenzo Chapa, Jr
Sergeant
A CO, 2ND BN, 502ND INFANTRY, 101 ABN DIV
Army of the United States
17 May 1948 - 26 October 1969
San Angelo, Texas
Panel 17W Line 120
The database page for Lorenzo Chapa, Jr
01 Nov 2005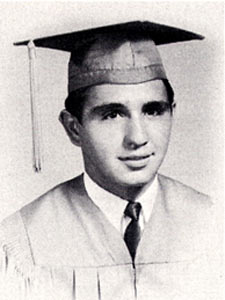 Lorenzo was a life time resident of San Angelo, Texas. He attended San Angelo schools. He attended Edison Junior High School and in his freshman year he was the President of the Student Body. He attended San Angelo Central High School and was a member of the AFS, Science Club, Math and Gavel Club, Key Club, Spanish Club, Advisory Council and the Speedreading Club. He graduated from Central in 1967. After high school, he worked. He was drafted into the Army in 1968 and trained at Fort Polk and was selected to attend the NCO Academy at Harmony Church, Fort Benning, Georgia and received a promotion to Sergeant E-5 upon completion. A classmate of his was Walter Bedford Lowe of Garden City, Texas, who also perished in Vietnam and is also buried in San Angelo. In Vietnam, he was with the 101st and perished from gunshot wounds, two months after arriving in country. He is remembered by San Angelo Central High School, Class of the 60's Vietnam Web site, by the Concho Valley Vietnam Memorial and by the Permian Basin Vietnam Veterans' Memorial in Midland, Texas. May his sacrifice never be forgotten.
From a PBVVM representative,
Billy M. Brown
bmbrown@grandecom.net

A Note from The Virtual Wall
Sergeant Chapa was one of three men from Alpha 2/502 who were killed in action on 26 Oct 1969. The other two were SGT Richard M. Logan of Elyria, Ohio, and PFC James Jones of Carleton, Michigan.
The point-of-contact for this memorial is
a PBVVM Representative,
Billy M. Brown
4015 Melody Lane, Odessa, Texas 79762
bmbrown@grandecom.net
01 Nov 2005
---
With all respect
Jim Schueckler, former CW2, US Army
Ken Davis, Commander, United States Navy (Ret)
Last updated 11/09/2005