A Note from The Virtual Wall
An ex-Marine named R. Dalton Buster (3/1/48-11/30/00) wrote a book entitled "The Walking Dead" about his experiences as a Marine infantryman in Vietnam. The cover photo of that book, shown below, is credited to David Earl Cherry, Jr.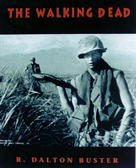 Mr. Buster was partners with LCpl Cherry while Buster was assigned to a unit of the 1st Marine Division. LCpl Cherry was assigned to India Company, 3rd Battalion - but his regiment is unknown. However, it is The Virtual Wall's belief that both men were with India Company, 3rd Battalion, 1st Marines, 1st MarDiv. This belief is based on three elements:
Location: Quang Nam Province was within the 1st MarDiv area and Buster was in the 1st MarDiv.
Action: Only 3rd Bn, 1st Marines, and 3rd Bn, 5th Marines, were engaged in Quang Nam Province on 12 May 1969.
Losses: All 3/5 Marines losses were from Lima Company. The 3/1 Marines are known to have lost two men from H&S Company, seven from India Company, and two from Lima Company.
It is The Virtual Wall's conclusion that Lance Corporal David E. Cherry was one of eight men killed in action on 12 May 1969 while assigned to India Company, 3/1 Marines:
LCpl David E. Cherry, Woodland, NC
LCpl Donald J. Cook, Baton Rouge, LA
LCpl Gerald E. Henry, Edwardsville, IL
LCpl Gary T. Walz, Prairie Du Chien, WI
Pfc Ronald De Lorenzo, Trenton, NJ
Pfc Richard W. Haynes, Excelsior, WV
Pfc Michael A. Mathison, Princeton, MN
Pfc Fidel Padilla, Laredo, TX