Bruce was an outgoing, fun loving young man and a born leader. He loved excitement and challenges.
Born in Port Arthur, Texas, on August 26, 1948, to Leo and Esther Churan, Bruce was the second of six children. He graduated high school in May of 1966 and joined the Army in June of 1966. After boot camp he went into Infantry OCS at Fort Benning, Ga. He graduated leadership school too young to become an officer and had to go to Fort Gordon, Ga. where he was a drill instructor until he turned 19 years old at which time he was commissioned as a 2nd Lieutenant.
He attended helicopter flight school at Fort Wolters, Texas, where he graduated in December 1968. He went to Vietnam in January 1969 as a 1st Lieutenant. Bruce was killed in an attack on his base in Binh Long Province, South Vietnam.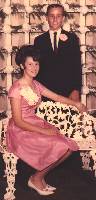 Bruce was liked by everyone that knew him. He was only 5'-4" and weighed 135 pounds, but he didn't fear anything.
Our brother, son, friend, loved one -- Bruce is missed by all of us.
On the 51st anniversary of his birth, we dedicate this page to his memory.
26 August 1999