Richard Ames Claflin
Major
433RD TAC FTR SQDN, 8TH TFW, 7TH AF
United States Air Force
02 July 1939 - 28 May 1974
Kansas City, Kansas
Panel 24E Line 002
The database page for Richard Ames Claflin
15 Sep 2003

I'm 35 years old, I was born in Yokusuka, Japan, on July 2, 1968, at the same time my father was on a Navy ship just off the coast of Vietnam. My Mom's twin brother (my uncle Billy) was also out at sea somewhere off that same coast. My Father's younger brother (my uncle Glen) was in Vietnam as well with the Army, where he earned the Bronze Star.

I'm a lucky son and nephew - my family all came home. Those are my roots and the significance being, my Mom gave me a metal bracelet when I was very young and I can't believe it but I never lost that bracelet and today I finally did a little research and ended up finding out that the name on my bracelet, RICHARD AMES CLAFLIN, USAF ... He never came back home. By some strange coincidence RICHARD CLAFLIN and I share the same birthday - the only difference is I'm 7/2/68 and he's 7/2/39. Sad for all his family, wherever they may be, I'm also happy. I'm happy because I'll be thinking of him every July 2nd from this day on and we'll celebrate our birthdays together forever.
04 Jan 2003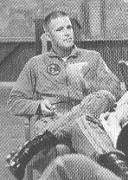 Richard A. Claflin was in my Undergraduate Pilot Training class (63-F) at Laredo AFB, TX. When the 'Traveling Wall' came to the area I made up card memorials to take to the Wall.
Neil McCutchan
neiljmc@aol.com

02 Jul 2006

You're in my thoughts today, July 2nd 2006. Happy Birthday, Mr. Claflin. - DC

From someone who wears his MIA bracelet.
E-Mail will be forwarded by the
Webmaster@VirtualWall.org

31 Dec 2006

Many years ago, when I was a child, I sent off for a POW-MIA bracelet. The bracelet I received was for Capt. Richard Claflin. I remember looking in the newspaper for his name hoping he would be one of those who were returning home. I never saw his name. But through the years I have kept the bracelet safe. Today I came across it again and for the millionth time I was wondering whatever happened to him. Thank heavens for the wonders of the web. Just a little searching and I had so many answers. Tonight is New Year's Eve and what a great way to end this year. I just discovered that I grew up only miles from his hometown of Kansas City, Kansas. As a child I lived in Overland Park, Kansas. I would love to return my bracelet to any family member he may have. I may be contacted at vpaxton@everestkc.net

Valorie Paxton
Overland Park, Kansas
vpaxton@everestkc.net

06 Jul 2007

My Vietnam bracelet is also for Richard Ames Claflin.
I picked his name because he was listed as a MIA on my birthday.
Since I wanted to find out more about him, I searched the web
and found the Virtual Wall. I will also search for Richard Brazik.

Thanks to the webmaster, I can now attach a face to the person whose bracelet I wore for months. I am a retired Air Force wife and wore a Desert Storm bracelet until my husband came home. As time passes, more heroes give their all for their country...

God bless them and their families every one.

From someone who wears his MIA bracelet.
E-Mail will be forwarded by the
Webmaster@VirtualWall.org

A Note from The Virtual Wall
On the night of 26 Jul 1967 a flight of F-4C Phantoms from the 433rd Tactical Fighter Squadron, 8th TFW, Ubon RTAFB, was scheduled for an armed reconnaissance mission along Highway 15 which ran from Laos through the Mu Gia Pass into North Vietnam. The wing position was flown by 1st Lt Richard Brazik and Captain Richard A. Claflin in F-4C tail number 64-0848.
While operating within North Vietnam about 24 kilometers north-northeast of the pass, the two aircraft encountered a truck convoy and prosecuted the target. 64-0848 exploded in midair as it was making its second pass against the target. While the cause of the explosion was unknown, it was suspected that its own ordnance detonated on release, destroying the aircraft.
Although the flight lead initiated search and rescue operations, no contact was made with either crewman. Both men were carried as Missing in Action until the Secretary of the Air Force approved Presumptive Findings of Death for Brazik on 09 Oct 1973 and Claflin on 28 May 1974. Their remains have not been repatriated (04 Jul 2006).
---
With all respect
Jim Schueckler, former CW2, US Army
Ken Davis, Commander, United States Navy (Ret)
Memorial first published on 15 Sep 2003