Remembering
Timothy Cole, Jr
Warrant Officer, Army of the United States
54TH MED DET, 498TH MED CO, 67TH MED GRP, 44TH MED BDE

From Newnan, Georgia
19 December 1946 - 18 October 1968
Timothy Cole, Jr is on the Vietnam Veterans Memorial, Panel 41W Line 072.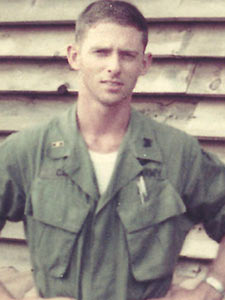 Tim was killed before a formal photograph of him in his Officer's uniform was taken. He served because of his devotion to his God, his country and his love for his family. Thank you to all who served and to their families.

From his sister and mother,
Carolese Cole Gullatt and Louise M. Cole

carolesegullatt@gmail.com

---
A Note from The Virtual Wall
The 54th Medical Detachment (Helicopter Ambulance) arrived at Chu Lai in the southern I Corps Zone in August 1967, immediately began combat training with the 498th Medical Company, and became operational on 25 September 1967. It supported the 23rd Infantry (Americal) Division, the Army's largest. The southern I Corps Zone proved to be one of the most hotly contested in South Vietnam, and the 54th soon amassed an enviable record of honorable and dedicated support.

On 18 October 1968, two men of the 54th Med died when their UH-1 helicopter was shot down during a medevac mission:

WO1 Timothy Cole, Jr., aircraft commander, and
SP4 Victor Reyes Hernandez, crew chief.
---
The database page for Timothy Cole, Jr

www.VirtualWall.org
To alpha index C
GA State Index . Panel 41W
498TH MED CO Index
Webmaster@VirtualWall.org
Memorial first published on 20 Dec 2001
Last updated 08/30/2012