45 years after his father's death, Temple Texas resident Richard Conde accepted from President Obama a long overdue Medal of Honor on behalf of his father during a March 18 ceremony at the White House.
Conde-Falcon was one of 24 veterans who received this honor after a 2002 Army review of records of Hispanic and Jewish veterans who received a Distinguished Service Cross during or after World War II and were eligible to receive an upgrade. That review was conducted under a directive from Congress in the 2002 National Defense Authorization Act.
Richard Conde said he grew up hearing stories about his Puerto Rican father's bravery, but he did not really get a sense of his father's actions until one of his father's platoon "brothers" finally tracked down the family, 20 years after promising himself he would. "He told me my father's last words were 'God don't let me die, take care of my wife and two kids".
Felix Modesto Conde-Falcon was born in Juncos, Puerto Rico in 1938 and raised in Chicago Illinois. He volunteered for the Army in April of 1963, and was stationed in Texas at both Fort Bliss and Fort Hood before serving in the 505th Parachute Infantry Regiment, 3rd Brigade Combat Team, 82nd Airborne Division in South Vietnam.
---
Secretary of Defense Chuck Hagel, left, presents the Medal of Honor Flag to Richard Conde, on behalf of his father Staff Sgt. Felix M. Conde-Falcon, one of 24 Army veterans honored during the Valor 24 Hall of Heroes Induction ceremony, held at the Pentagon, Washington D.C., March 19, 2014 (U.S. Army photo by Mr. Leroy Council/Released).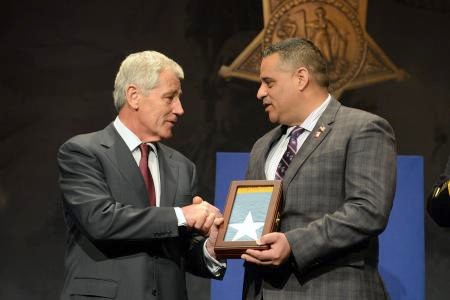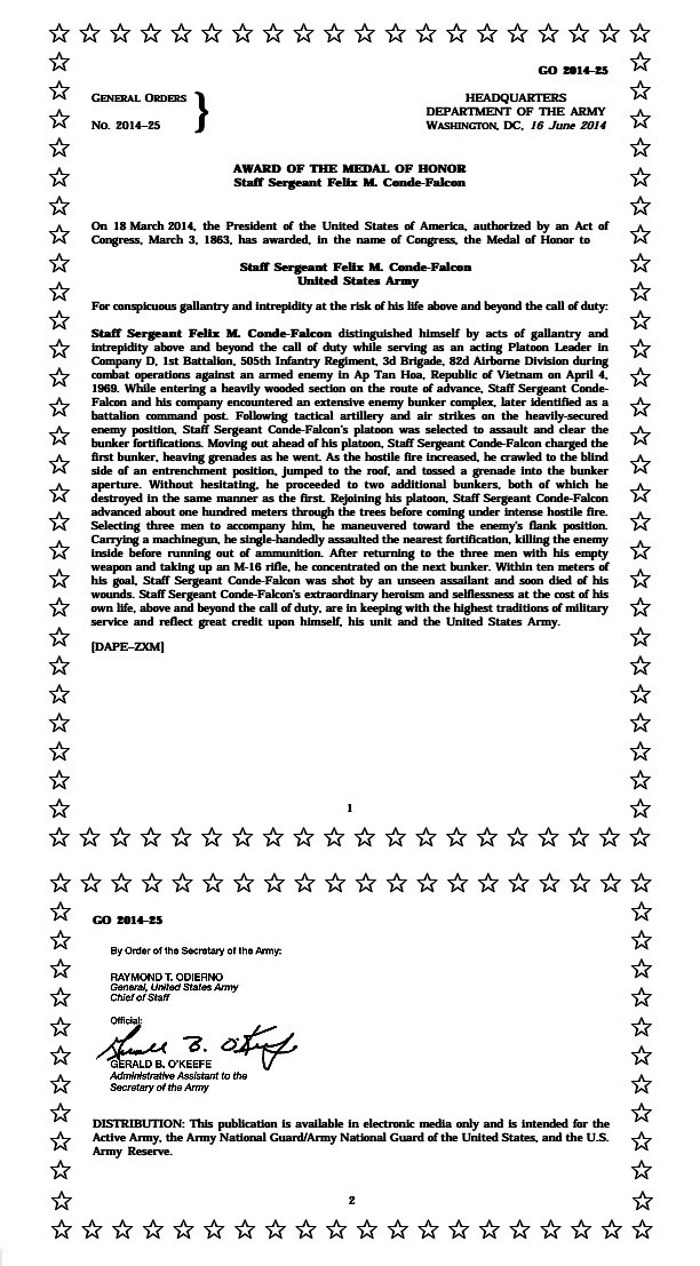 When he died in combat, he left behind his wife, Lydia Layton Conde (1935 - 2005) and his 3-year-old son, Richard and one year old daughter, Juana. He was also survived by his parents, Mr and Mrs Felix Conde, Juncos, Puerto Rico. Felix and Lydia are buried in Rogers Cemetery, Rogers (Bell County), Texas.
Photo of a new cemetery marker by Veterans Administration contractor for SFC Conde-Falcon. It's unknown when it will be placed in Rogers Cemtery.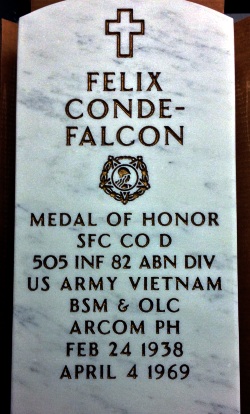 ---
In addition to the top of page medals and badges, SFC Conde-Falcon also was awarded:
Republic of Vietnam Military Merit Medal;
Republic of Vietnam Gallantry Cross - Unit Citation with Palm Device
Republic of Vietnam Civil Actions Honor Medal, Unit Citation, First Class;
Expert Badge-Rifle Bar; Sharpshooter Badge-Auto-Rifle Bar; Marksman Badge-Pistol Bar;
&nbsp
&nbsp
Drill Sergeant Identification Badge.
---
- - The Virtual Wall, August 26, 2014