1999 AVVBA Memorial
Located at Lenox Towers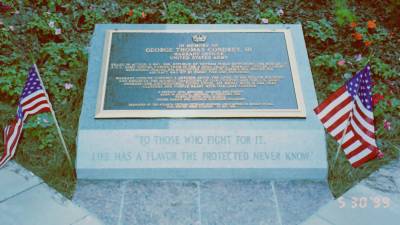 Warrant Officer George Thomas Condrey, III
281st Aviation Company, 1st Aviation Brigade, US Army
Killed in Action: 8 May 1968
Warrant Officer George Thomas Condrey, III was born in Atlanta, GA on 12 February 1944 and graduated from North Fulton High School in 1962 where he played quarterback for his football team. He attended Young Harris and Georgia Southern Colleges prior to enlisting in the United States Army on 6 June 1966. He took basic training at Fort Polk, Louisiana, aviator training at Fort Wolters, Texas and Fort Rucker, Alabama, graduating on 6 June 1967.
Immediately following graduation from flight school, Condrey received orders for Vietnam and upon arriving in country on 13 July 1967, was assigned to the 281st Aviation Company (Assault Helicopter) in the 1st Aviation Brigade. Their primary mission was to support the 5th Special Forces Group and in that effort he flew more than 400 combat missions.
On 8 May 1968, a Special Forces team on a sensitive reconnaissance mission in the A Shau Valley came under intense fire from a large enemy force. The team leader called for immediate assistance and a task force was quickly formed and airlifted to support their rescue. As WO Condrey arrived on the scene his aircraft came under heavy enemy fire. As the first aircraft with reinforcements approached the landing zone he flew his aircraft in close escort, placing accurate fire on the enemy positions and drawing their fire away from the lightly armed lift ships. He selflessly continued to provide this support to ensure the safety of the endangered force until his aircraft was hit by enemy fire, exploded and crashed on the bank of the Buong River.
Warrant Officer Condrey's actions were in keeping with the highest traditions of military service and reflect great credit upon himself, his unit, and the United States Army. The Distinguished Flying Cross was posthumously awarded to WO Condrey for his gallantry in action. This memorial will stand as a tribute to his valor, his sacrifice and his love for his home and country.
Taken from the
Atlanta Vietnam Veterans Business Association site