Green Conley
Specialist Four
BRAVO CO, 1ST BN, 5TH INF RGT, 25 INF DIV
Army of the United States
12 November 1946 - 13 April 1966
Phoenix, Arizona
Panel 06E Line 109
The database page for Green Conley
10 May 2001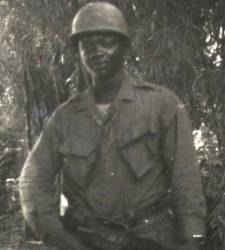 Conley was in B Company 1st Platoon 2nd Squad.
He had the best voice you ever heard and
was always singing rock and roll.
Conley was killed in action on 4/13/66 in the Ho Bo Woods.
Remembered by his comrades,
the BOBCATS of the
5TH INFANTRY REGIMENT (MECH)
16 Nov 2004

You were one of "my guys". As your platoon leader I did my best to bring everyone home but I was not successful. I mourned your loss then and I do to this day. I carry your name in my wallet along with the names of your brothers in arms lost from my platoon. Know that those of us who served with you will not forget.

From his Platoon Leader,
Robert Whaley
r.e.whaley@att.net

A Note from The Virtual Wall
On 13 Apr 1966 the 1/5 Infantry began a two-day search and destroy operation in the Filhol Rubber Plantation in Binh Duong Province. B Company engaged a group of Viet Cong who, using spider holes and a tunnel complex, killed five and wounded seven soldiers. The dead were
1LT Frank A. D'Amico, Gloucester, MA
SGT Clinton B. Fackrell, Willits, CA
SP4 Green Conley, Phoenix, AZ
SP4 Phillips La Marr, Compton, CA
PFC James R. Taylor, Teaneck, NJ
One of the wounded, SP5 Jimmie L. Scott died of his wounds on 01 Jun 1966. The 2nd Platoon Leader, Ted Jagosz, has provided additional informtaion on his memorials for 1LT D'Amico and SP5 Scott.
The point-of-contact for this memorial is
Bobcat Webmaster,
Randy Kethcart
randy@bobcat.ws
10 May 2001
---
With all respect
Jim Schueckler, former CW2, US Army
Ken Davis, Commander, United States Navy (Ret)
Last updated 11/23/2004