"Born Charles Richard Crews, Rickey was a lifelong resident of the area. He lived at Kingsley Lake when he attended Bradford High School [Senior Class Photograph used above] and was a member of the state championship football team. A member of the Kingsley Lake Baptist Church, he still has family and many friends in the area." Announcement in local area papers in Starke Florida.
The award of the Bronze Star for Valor was announced in the Bradford County Telegraph: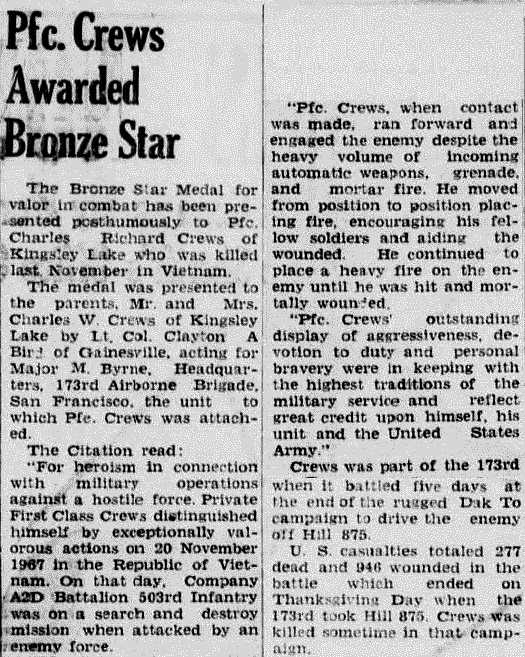 ---
PFC Crews died during the battle for Hill 875 during the period 17 - 23 November 1967. Hill 875 got its name from the height of its highest point above sea level in meters, peaking at approximately 2,700 feet above sea level. Hill 875 is about 8 kilometers from the Cambodian border and sat astride a major exit of the Ho Chi Minh Trail system into South Vietnam.
On November 19, 1967, 2nd Battalion, 503rd Infantry, 173rd Airborne Brigade, was given the mission of securing Hill 875, estimated to be defended by a company of NVA regular troops fresh off the Ho Chi Minh Trail. What followed was one of the fiercest battles of the entire Vietnam War. The NVA force that occupied Hill 875 was not a company, but rather two regiments.
When A Company, 2/503rd, began their movement up the hill they came under withering fire from automatic weapons, mortars, and B-40 rockets. The NVA were firing from concealed positions constructed in March of 1967. By November the fast growing jungle had hidden all traces of the log-covered bunkers. Other NVA forces occupied nearby hilltops and were able to support the NVA on Hill 875 with mortar and artillery fire. As it became apparent that A/2/503 was badly outnumbered, the other companies of 2/503 were committed to the fight. However, the men of 2/503 had to stand alone for the rest of 19 November and through the night that followed.
At 11 AM, 23 November, two battalions of the 503rd began a two-pronged assault on the hilltop. The NVA on the surrounding hills placed mortar and artillery fire on their own positions on Hill 875, hoping to break up the US assault while counting on the fortifications to protect the NVA soldiers. The NVA effort failed and the paratroopers took the peak in a 30-minute assault. By 1430 hours the 1st Bn, 12th Infantry, reached the peak, having advanced up the southwestern slope to reach the summit. The combined US force cleared Hill 875 of North Vietnamese troops.
You can read more details and see the list of 123 known casualties from the battle, to include the 23 men killed on the 20th of November from A Company, 2nd Battalion, 503rd Infantry.
---
Military Rites Held For Pfc. Crews,
County's Third Victim of Vietnam
Military rites were held Sunday afternoon at the Kingsley Lake Baptist Church for Pfc. Charles Richard Crews, 19, who was killed in action on November 20 to become Bradford County's third victim of the Vietnam conflict.
Pvt. Crews was born in Jacksonville on July 29, 1948, but had been a lifelong resident of Bradford County, coming here a few months after birth. He attended the Heilbronn Springs Elementary School and graduated from Bradford High School in 1966. He was a member of the State Championship Tornado football team. Below is his Bradford High School Freshman class photograph
High School Freshman Class photograph
After graduation from high school, he attended St John's River Junior college one trimester before entering the service last February. He received his basic training at Ft. Benning, GA., and trained as a paratrooper at Ft. Gordon, GA.
Pvt. Crews was a member of the 173rd Airborne Brigade that battled five days at the end of the Dak To campaign to drive the enemy from Hill 875. U.S. casualties totaled 277 dead and 946 wounded in the action which ended Thanksgiving Day. Complete details of Pvt. Crews death have not yet been received by the family.
Surviving are his parents, Mr. and Mrs. Crews, of Kingsley Lake; one sister, paternal grandparents, Mr. and Mrs. Graham Crews, and his maternal grandfather, D. I. Knight, all of Starke.
Funeral services were held at 3 p.m. Sunday at the Kingsley Lake Baptist Church, of which he was a member, with Rev. Allen Price and Rev. Jim Rigdon officiating. Full military rites were administered by personnel from Ft. Stewart, GA., including pallbearers, bugler, and members of the firing squad. DeWitt C. Jones Funeral Home was in charge of local arrangements. (Published in Bradford County Telegraph, with two corrections, minus living relatives.)
---
The photograph below is of Rickey Crews, John Bradley, and Jimmy Blackshear. Appears from background, it was taken at Fort Benning Georgia. Jimmy or SP4 James Guy Blackshear, a Bradford High School class mate of Rickey, a member of A Company, 1st Battalion, 503rd Infantry, was killed in action on March 17, 1968. They were two of the 9 men from Starke Florida who died in the Vietnam War.
"This community has only lost three men in the history of all of our country's wars and they were lost within 9+ months and really devastated their friends and family. Rickey was very active in the local church where they are all buried and the mention of him aiding the wounded really struck a note with me, as it depicted the Rickey that everyone knew. He played on the state championship football team with SP4 James Guy Blackshear, and all three were of the same graduating class. Although LCpl Robert Melvin Nail left school to join the Marines the day after his 17th birthday, he did earn his high school diploma before deploying to Vietnam."
- - - Doug Combs - Kingsley Lake, 2014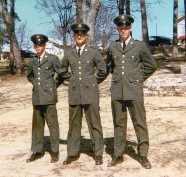 Rickey Crews, John Bradley, and Jimmy Blackshear
---
PFC Charles Richard "Ricky" Crews is buried, along with his parents Mildred Knight Crews (1925 - 1996) and Charles William Crews (1922 - 2002), in Kingsley Lake Cemetery, Clay County, Florida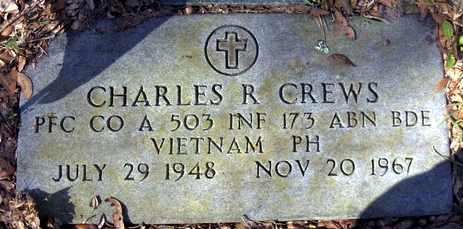 Cemetery Marker for PFC Ricky Crews